Elizabeth Hagerty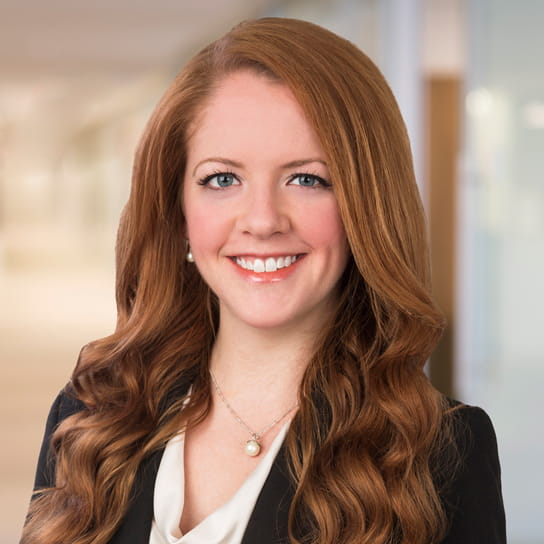 Practice Group
Litigation
Liz Hagerty advises clients on complex civil litigation matters pending before federal and state trial and appellate courts. Liz represents clients on a wide range of legal issues at all stages of litigation, including trial and settlement. She has handled class actions; contract disputes; constitutional challenges; patent, trademark, and copyright claims; partnership derivative actions; and litigation under various federal and state statutes.
Liz also tackles clients' most novel litigation and business challenges by teaming up with her colleagues in other practices and industries. She recently leveraged the comprehensive knowledge of the firm's FDA group in drafting a series of ground-breaking motions to enjoin state regulations that banned (and later restricted) a pharmaceutical client's opioid drug. She also has partnered with the firm's data privacy lawyers to anticipate intellectual property issues for a leading health information provider.
In addition, Liz is active in the firm's Pro Bono practice. She has written amicus briefs on behalf of the American Civil Liberties Union, served as trial counsel in a contested adoption proceeding, and currently represents a class of D.C. residents challenging the city's failure to provide adequate language services.
Before rejoining Hogan Lovells, Liz served as a law clerk to the Honorable Alan C. Kay at the U.S. District Court for the District of Hawaii. While in law school, Liz was the Senior Notes Editor of The George Washington Law Review, a Presidential Merit Scholar, and a member of the moot court and mock trial skills boards. In addition, she served as a teaching assistant for Civil Procedure and student-taught two sections of first-year Legal Research and Writing. Before law school, Liz worked as a paralegal.
Representative Experience
Advise a pharmaceutical company challenging state restrictions on its federally approved drug; drafted successful motions for preliminary injunctive relief.
Representing a pharmaceutical company during a federal investigation of its promotional and compensation practices.
Advised a laboratory testing company on issues related to false advertising and patent infringement claims; assisted with dispositive motions briefing.
Represented an international supplier at all stages of a domestic contract dispute, including dispositive motions practice and settlement negotiations.
Served as the sole associate support in a partnership derivative action that settled favorably.
Represent leading candy company and second-generation biofuel producers in trade secrets litigations.