A. Elizabeth Korchin
Senior Associate
New York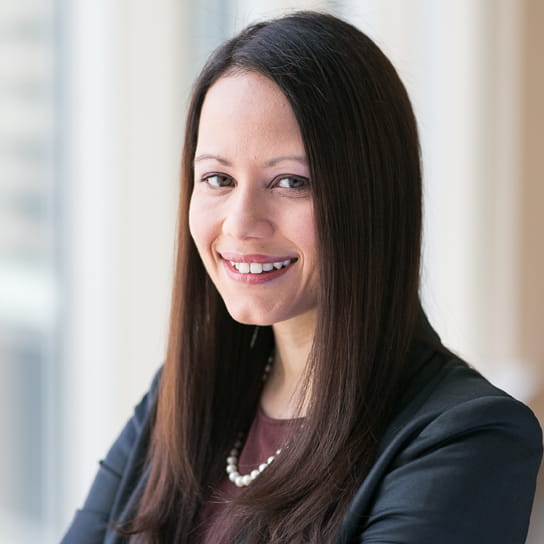 Practice Group
Litigation
Elizabeth Korchin's legal experience spans an impressive and wide range of federal and state law causes of action, from RICO, to ERISA, to the Lanham Act and Patent Act. But many of these issues share a common thread — technology.
Whether the disputes are related to electronics manufacturing, computer software, cinematographic equipment, medical drug-testing services, cellular telephone networks, or offshore oil production, Elizabeth taps into her passion for discovering how things work to break down complex and highly technical material into simple, understandable concepts for non-technical audiences.
As a senior associate, Elizabeth also regularly uses her tech savvy to help clients within her practice on a variety of discovery issues in litigation and arbitration. She provides creative solutions to streamline electronic document collection and production across borders and in multiple languages.
Elizabeth's litigation and international arbitration practice includes intellectual property disputes; product liability matters; business and commercial contract disputes; healthcare and health insurance conflicts; and false advertising and unfair competition claims. She has significant experience defending class actions, including practicing before the Judicial Panel on Multidistrict Litigation and litigating in multi-defendant, coordinated proceedings. In addition, Elizabeth is actively involved in the Community Services department at Hogan Lovells and has represented unaccompanied child refugees and torture survivors in asylum proceedings, including an oral argument to the United States Court of Appeals for the Fourth Circuit on behalf of a juvenile refugee. Outside of the office, Elizabeth serves as an advisory board member for the GlamourGals Foundation, a nonprofit that provides companionship to women living in senior homes.
Representative Experience
Secured favorable jury verdict in patent infringement suit, including award of treble damages. Judgment affirmed by the Federal Circuit.
Secured favorable jury verdict in Lanham Act false advertising suit, successfully challenging medical testing company's false claims.
Summary judgment victory for Fortune 100 company in patent infringement litigation concerning cellular telephone network infrastructure.
Defeated class certification on behalf of multinational electronics company in a punitive nationwide RICO consumer class action.