Dennis Mendoza Quinio
Senior Associate
New York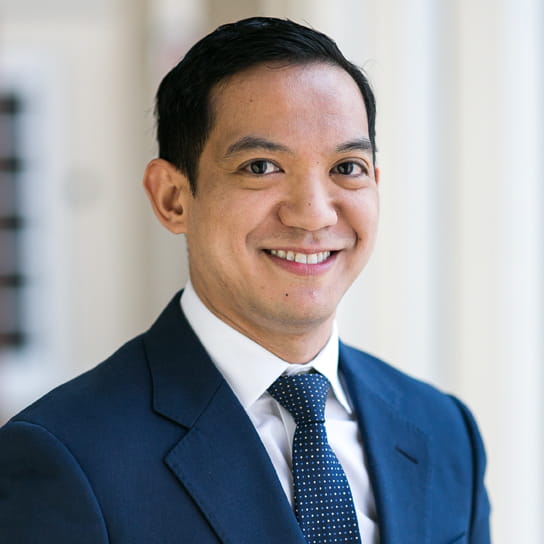 Practice Group
Litigation
Dennis Quinio aims to find creative, big-picture solutions to the challenges that can arise at every stage of a dispute through his dedication and calm-in-the-storm demeanor, traits he has been developing since his days leading a peer crisis counseling group at Harvard College.
Whether the controversy involves companies in the pharmaceutical, technology, insurance, or financial services space, Dennis brings to his practice a deep understanding of the day-to-day business of his clients and an uncanny ability to communicate about complex subject matter with ease. His affinity for distilling seemingly insurmountable challenges into their more manageable parts has always helped bring the best out of teammates and colleagues.
As a senior associate, he has experience handling all facets of litigation, including discovery, motion practice, trial, contract disputes, consumer protection, antitrust, and securities litigation, advising companies on regulatory and compliance issues, and assisting with government and internal investigations. Prior to law school, Dennis worked in publishing as an editor where he honed his writing skills and his attention to detail, characteristics honored by Benjamin N. Cardozo School of Law when he was awarded Best Written Work - Not for Publication for a mock U.S. Supreme Court opinion. During law school, Dennis worked for the in-house legal department of the Global Wealth and Investment Management division at Bank of America, was Articles Editor of the Cardozo Law Review, and spent a semester as a full-time fellow with the Honorable Susan D. Wigenton, U.S. District Judge for the District of New Jersey.
Dennis also consistently dedicates time to pro bono legal services, including on behalf of the LGBT community and other underserved communities. In recognition of this commitment, the New York State Bar Association has awarded Dennis the designation of Empire State Counsel several years in a row.
Representative Experience
Representation of one of the nation's largest pharmaceutical companies in multi-jurisdictional civil litigation involving allegations of fraud.
Representation of a publicly traded medical device manufacturer engaged in direct and distributor sales in a putative securities fraud class action.
Representation of a major technology company in litigation and investigations involving allegations of monopolization, tying, and refusal to deal.
Representation of a luxury hospitality company in connection with derivative litigation arising out of a dispute over director-approved transactions.
Representation of one of the nation's largest telecommunications companies in connection with merger filings before U.S. competition authorities.
Defense of a major pharmaceutical company in litigation alleging that company sales and promotional practices violate anti-kickback and other laws.
Latest thinking and events
Hogan Lovells Publications
Litigation Alert
Hogan Lovells Publications