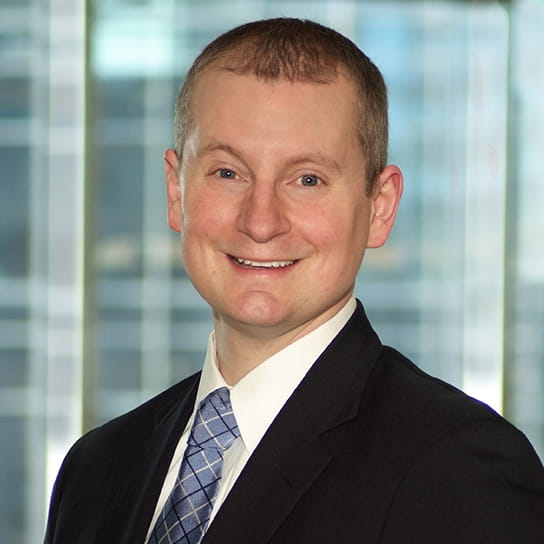 David Crandall is a skilled advisor who works closely with clients to produce creative and efficient solutions in corporate and securities matters. David regularly advises companies regarding debt and equity financing in both public and private offerings, buying and selling public companies, shareholder and board matters, and public company obligations. David serves as outside general counsel to numerous companies in the mining, technology, and biopharma industries.
Years of representing a broad range of clients, from pre-revenue companies considering IPOs, to established Fortune 500 companies, have provided David a depth of knowledge to draw upon in meeting his clients' needs. His vast background of corporate and securities law allows him to provide timely and accurate advice.
David has represented issuers and underwriters in dozens of offerings amounting to billions of dollars. While he regularly represents large public companies in sizable underwritten debt and equity financings, he is also experienced in helping smaller clients meet their capital needs through mechanisms such as at-the-market offerings, registered direct offerings, and private equity lines.
David regularly represents companies in public mergers and acquisitions, both nationally and internationally, including tender offers and registered one-step mergers. He also counsels clients in defending against hostile take-overs.
For general corporate and public company obligations, David serves as an informed resource for clients, bringing years of experience in working with the Securities and Exchange Commission, shareholders, and boards of directors.
Representative experience
Represent Laird Superfood in its US$67m IPO.
Represent Strategic Education in its US$229m following-on common stock offering.
Represent Westwater Resources in dispositions of its uranium assets.
Represent Laird Superfood in private offerings in advance of its IPO.
Represent Strategic Education in its acquisition of the Australia and New Zealand business of a U.S. public company.
Represent National CineMedia in its offering of US$400m of senior secured notes and the redemption of existing senior secured notes.
Represent a U.S. public health care company in the acquisition of other public health care companies, with aggregate cash and equity consideration in the billions of dollars.
Represent Westwater Resources, Inc. in its acquisition of ASX-listed Anatolia Energy Limited.
Represent Regal Entertainment Group in several bond offerings for over a billion dollars and tender offers and redemptions of existing bonds.
Represent Ciena Corporation in its approximately US$400m acquisition of Cyan Inc.
Represent Royal Gold, Inc. in over US$800m of common stock and convertible debt offerings.
Represent numerous issuers in establishing at-the-market and private equity line agreements.
Represent a Canadian company in its acquisition of a public U.S. computer software company.
Represent Array BioPharma and TESARO, Inc. in convertible debt offerings in excess of US$300m.
Education
J.D., Stanford Law School, 2007
B.A., Johns Hopkins University, Phi Beta Kappa, 2004
Bar admissions and qualifications
Capital Markets: Debt, Notable Practitioner
IFLR1000
2020
Capital Markets: Equity, Notable Practitioner
IFLR1000
2020
M&A, Notable Practitioner
IFLR1000
2020
Mining, Notable Practitioner
IFLR1000
2020
Pharmaceuticals and Life Sciences, Notable Practitioner
IFLR1000
2020
Press releases
21 March 2022
Press releases
25 February 2022
Webinar
15 November 2022 | 1:00 - 2:00 p.m. (EST)