Ready for the school year
Our colleagues in offices across the United States helped to make the transition from summer to school easier for students and families.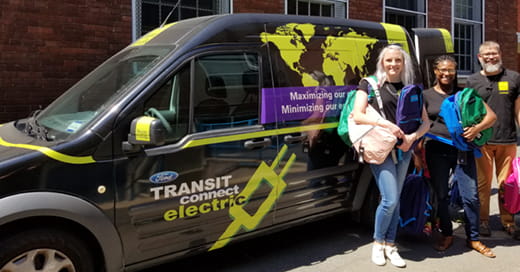 On average, American families spend over US$100 per child for back-to-school supplies, which can be burdensome for some. Lawyers and Business Services across our offices supported our annual Backpacks for Kids campaign, which raises funds and collect supplies to provide backpacks filled with school supplies to students in our local communities.
In Houston, Los Angeles, Louisville, Northern Virginia, and Baltimore, we partnered with our local Touch charities to support their annual back-to-school campaigns. In Los Angeles, we sponsored 48 backpacks that were provided to students through the Foundation for Second Chances. Our Houston colleagues held an in-kind donation drive to collect backpacks and school supplies for the Houston Area Women's Center annual back-to-school campaign, and then volunteered to sort donations and assemble backpacks at the center. Our Louisville office also held a school supply drive for Boys & Girls Haven, providing dozens of students with needed school supplies. In Northern Virginia, we raised $300 for Northern Virginia Family Services' back-to-school project and a team of eight volunteers participated in their annual backpack assembly event.
In Philadelphia, we worked with Transform Philly to fill 175 backpacks with school supplies for students in the West Philadelphia area. And in our Washington office, our colleagues assembled and delivered 800 backpacks filled with school supplies for students in the District of Columbia and Prince George's County, Maryland.
Altogether, our offices donated enough funds and school supplies to help over 1,100 students start the school year with the tools needed for a successful school year.
Our commitment to our local schools doesn't end when the school year starts. Our volunteers are gearing up to serve as reading tutors, geography coaches, and mentors in classrooms throughout the U.S. this fall.
Back to Matched Giving