Community Investment | Americas
The value of mentorship
Jeff Mang, a Research Services (Legislative) Manager in our Washington, D.C. office, was recently recognized as Mentor of the Year at Marie Reed Elementary School by Everybody Wins.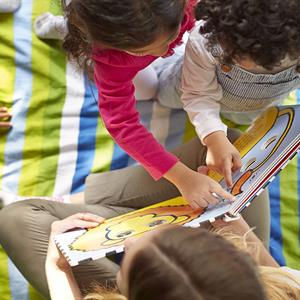 Everybody Wins is a nonprofit in that focuses on children's literacy and instills a love of learning through shared reading experiences with caring mentors. We spoke with Jeff about his experiences as a four-year mentor with Everybody Wins and his dedication to Citizenship at the firm.
Why did you get involved with Everybody Wins?
I felt like my experience helping my son with his reading would be of some value to others who may or may not have the same level of reading support at home. Also, the program is very simple (no training or prior experience needed), and I found the program's objective of encouraging a love for reading very appealing. The very simple formula of spending time reading and enjoying time together helps students gain confidence as readers and learners. This mentoring relationship also helps students improve their communication skills and become comfortable in speaking with people outside their existing social/family circle.
What has been the most memorable moment that you've had with Everybody Wins?
For National Poetry Month last spring, the program provided mentors and students with the opportunity to write and perform a "two-person" poem. My student, a fourth grader, expressed reservations and felt like it would be too difficult. However, after providing a general outline and idea for the poem, we worked to fill in the details and I believe she was quite pleased with the end result. And, I was very impressed with the ideas, changes, and words she brought to the poem.
How has working with students at Marie Reed Elementary School impacted your experience at the firm?
It is a way for me to contribute to some of the broader objectives of the firm. Most everyone likes to volunteer and have a positive impact on their communities, so it is nice that the firm makes this a priority. It has also been nice meeting other Hogan Lovells employees through the program.
What would you say to individuals who might be curious about volunteering with Everybody Wins?
Hogan Lovells is quite fortunate to be partnering with Marie Reed ES. The school is only a 15-minute cab ride away, the Everybody Wins contacts at the school are well organized and excellent to work with, and the building was completely renovated one year ago and is now an incredible space. More importantly, the kids really want your help and always show up with a positive attitude and smiles. What could be better! There is usually a long waiting list of students waiting for people like us to volunteer. It is also very simple; about 50 minutes of reading together at lunch time. The student and mentor take turns reading and talking about the story or just talking about things in general. You can do it every week or switch off with someone else in the office. My colleague and I work together with one student and cover for each other in the event of vacations, travel, or last-minute work issues, which makes it perfect for people with busy and unpredictable schedules.
What motivated you to participate in our Citizenship program?
The firm really makes it very easy to volunteer. I think Hogan Lovells has done a good job providing different types of flexible volunteering opportunities that can be incorporated into busy and demanding work schedules.
Back to Community Investment