Teaming up with Art2Cure in the fight against Parkinson
Hogan Lovells Luxembourg is supporting and sponsoring Art2Cure, a Luxembourg non-profit association founded in 2014, which organizes art exhibitions to raise funds for the research against the Parkinson's disease.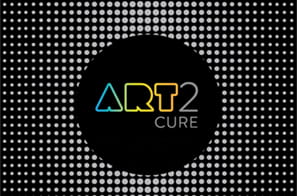 Ageing diseases related to the brain, such as Alzheimer's and Parkinson's disease, are a global health, economic and social emergency with the numbers of patients affected expected to double by 2030 and more than triple by 2050. Unfortunately, researchers who dedicate their lives to finding a cure for these diseases often don't receive the funding that they need to carry out research on the highest level.
How does it work?
Through art exhibitions at which artists show and sell their work, Art2Cure raises funds to dedicate to the medical research.
Art2Cure differentiates itself from other art fundraisers in that it equally supports the artists and the research. The proceeds raised by these art exhibits are always distributed evenly between artists and researchers.
Who benefits from Art2Cure?
Artists, up-coming or established, gain visibility and a privileged access to the market.
Researchers of the Luxembourg University and, since 2018, of Columbia University.
Who are the people behind Art2Cure?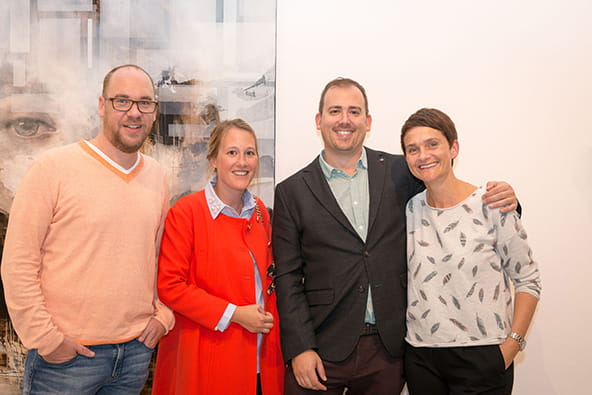 The four founding members of Art2Cure are: Gilles Weidig (President), Philippe Lamesch (Vice-president), Leslie Barnig (Secretary) and Fabienne Weidig (Treasurer).
(Photo credits: Henri Georgen). Photo caption: from left to right: Gilles Weidig, Leslie Barnig, Philippe Lamesch and Fabienne Weidig.
Gilles and Fabienne are art collectors with a strong interest in contemporary paintings and sculptures. Leslie Barnig is an art major who ran an art gallery for several years in Luxembourg and co-organizes the well-known yearly art fair 'Luxembourg Art Week'. Philippe Lamesch is an artist with an expertise in printmaking and collage. He was an artist in residence at the KALA Art Institute in Berkeley CA and is now a member of the Luxembourg printmaking cooperative Empreinte. Philippe is also the head fundraiser for medical research at the University of Luxembourg.
What do the exhibitions look like?
In 2015, the exhibition took place in Esch-sur-Alzette (Luxembourg) at the KUFA. In 2016 and 2017, it took place at the Galerie L'Indépendance (BIL headquarter), in Luxembourg City. Please see the relating 2016 video and the 2017 one. Over 100,000 EUR have already been raised in four years (including 30,000 EUR in 2017).
2018 is different as the exhibition has been organized in May at the Ronald Feldman Gallery in New York (Soho), with both US and Luxembourg artists.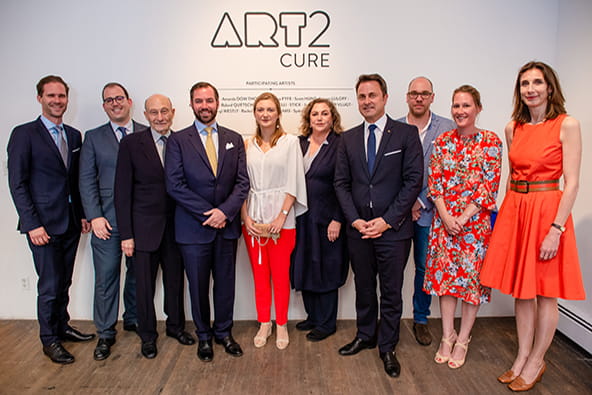 Photo credits: Art2Cure/Alyssa Meadows
Photo caption (from left to right): Gauthier Destenay (Luxembourg prime minister's spouse), Philippe Lamesch (Vice-President of Art2Cure and organizer of the event), Ronald Feldman (Owner of Ronald Feldman Gallery), T.RR.HH. Crown Prince Guillaume, Crown Princess Stéphanie, actress Kathleen Turner, Luxembourg Prime Minister Xavier Bettel, Gilles Weidig (President of Art2Cure), Leslie Barnig (Secretary of Art2Cure), Jeanne Crauser (Consul General of Luxembourg Consulate in New York).
Why is Hogan Lovells Luxembourg part of the project?
The fight against disease, disability and their social consequences is part of the DNA of Hogan Lovells. As such, we cannot be indifferent to Art2Cure's amazing initiative aiming at supporting the research to cure the Parkinson's disease. These are the great causes Hogan Lovells wants to contribute to: help Art2Cure to grow, to gain in visibility and, at the end of the day, to earn more money for their commendable purpose.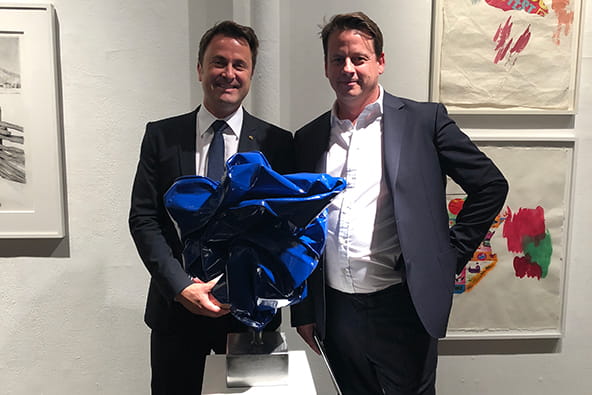 Photo caption (from left to right): Luxembourg Prime Minister Xavier Bettel and Hogan Lovells Luxembourg OMP Pierre Reuter
Should you wish to get further information or be part of it, feel free to use below links:
www.art2cure.com
https://www.facebook.com/Art2Cure/
Email: Valerie Verner – M&BD Co-ordinator (Luxembourg)
Back to Community Investment