Debate It! in Düsseldorf and London
Our London and Düsseldorf offices held the final competitions of their Debate It! program this summer.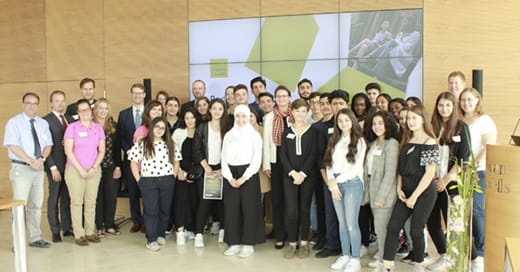 Debate It! is our international flagship education program. Our volunteers deliver weekly sessions during the school term time to children ages 9-14. The sessions aim to improve student's confidence, public speaking and debating skills. The year is finished off with an exciting inter-school competition, which sees the schools go head-to-head in debating a variety of current arguments and topics. Recently, the London and Düsseldorf offices held their final competitions.
This year, both the London and Düsseldorf competitions featured a common topic - the question of age restrictions applicable to social networks such as Facebook or WhatsApp. In Düsseldorf, they debated whether people should only have social media accounts after the age of 14. The young people from both schools presented various arguments from the fields of data protection, technology control and monitoring, and developmental psychology. In London, students questioned whether this age limit should be as high as 16 years old.
Debate It! in London
Debate It! in London has been running for over 10 years with seven partner schools. This year, a total of 72 volunteers were involved in the program.
The London primary school competition was tough and for the very first time in ten years, the judges announced a joint winner from the London schools, Clerkenwell and Prior Weston. A joint win highlights how the students performed to a high calibre, with the support and commitment of our volunteers on the program.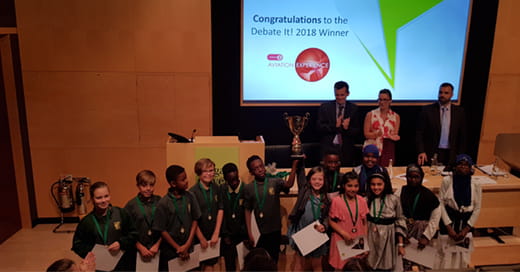 Children from Clerkenwell Prior Weston schools lift their trophy in a joint win - a first for London's Debate It! program!
In the London secondary school competition, both teams held impressive arguments, including whether the Government should ban plastic bags and whether university education should be free. After a very close final debate, the judges announced the winner to be Central Foundation Boy's School (CFBS).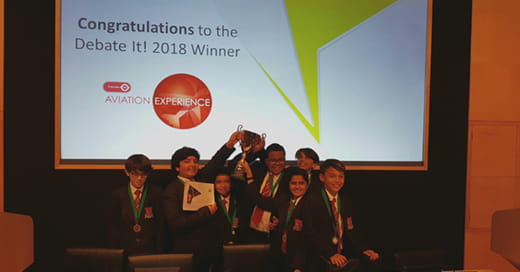 Winners from CFBS school raise their trophy at London's Debate It!
As well as the trophy and well-deserved status as 'Debate It! 2018 Competition Winner', the London winning teams (Clerkenwell, Prior Weston and CFBS) received tickets to the Emirates Aviation Experience, an interactive aircraft exhibition celebrating modern flight. During the exhibition, students will be able to explore what happens behind the scenes of a flight and be able to view jet engines.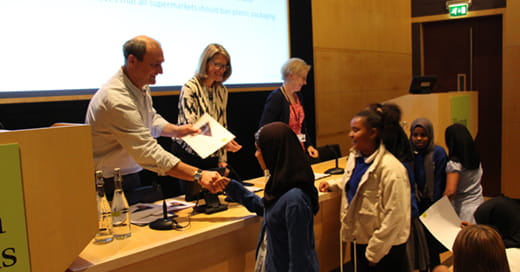 Primary school participants collect their certificates at London's Debate It! competition, featuring judges Crispin Rapinet, Jane Clutterbuck and Ruth Grant.
When speaking with the children at the end of the competition, they highlighted the most important things they learnt on the program: how to work better with others, structure their speech, and be more confident within themselves. 83 per cent of students strongly agreed and 10 per cent agreed, that they developed team-working skills after taking part in Debate It!
Debate It! in Düsseldorf
In Düsseldorf 16 volunteers dedicated their time to the program. The final competition was held for the fifth time this year and was between Meiderich Comprehensive School and Globus Comprehensive School.
The Year 9 pupils from Meiderich Comprehensive School narrowly defeated the Globus Comprehensive School on Dellplatz.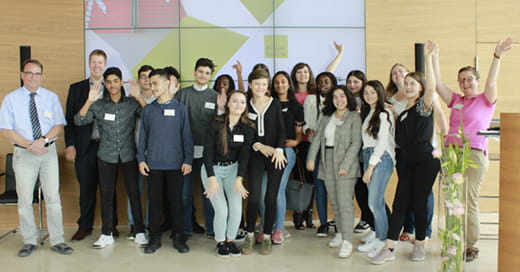 Volunteers and participants in our Düsseldorf Debate It! program celebrate their involvement and work on the program.
"Both schools presented themselves brilliantly. It was a really difficult decision for us," Sabine Reimann, one of the jury members.
The Meiderich Comprehensive School can now look forward to receiving prize money amounting to €1600 EUR, while the Globus Comprehensive School on Dellplatz team in second place will receive €800 EUR.
Thank you to everyone in Düsseldorf and London who supported the program this year to make it a success.
Back to Community Investment