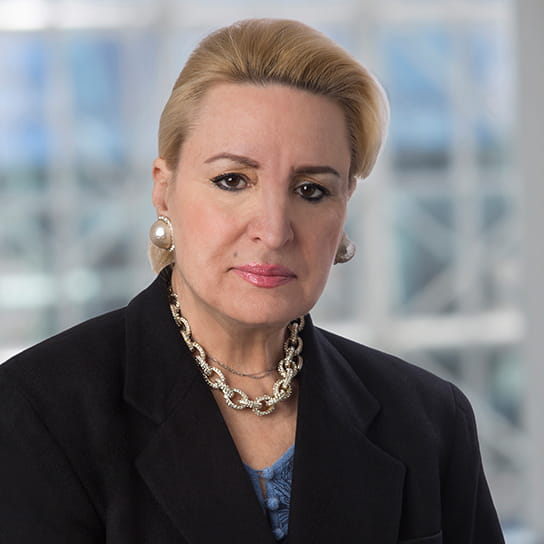 Dr. Christine Warnke works with companies, U.S. and foreign governments, global and domestic nonprofit organizations, and business trade associations to build, sustain, and grow national and international partnerships.
As a problem-solving advocate, Christine helps her clients manage both public policy mandates and business needs. With an international focus on business and economic development, Christine has earned accolades for her work in the development of infrastructure, energy, and health-related projects impacting populations worldwide.
Christine was elected to the International Board of Sister Cities International in July 2015 and subsequently asked to serve as the Director of our Nation's Capital sister cities network. In her capacity she is currently engaging the Diplomatic community on both a city-wide and national basis with communities throughout the world.
Christine helps businesses establish long-term acquisition and contracting relationships with U.S. government agencies, such as the Department of Defense, Department of Health and Human Services, Department of Homeland Security, and other federal agencies.
Christine has worked in government, trade associations, and private practice. Her work in the U.S. Senate Majority Leader's Office helped deepen her understanding of the impact of U.S. policy on business, communities, and international entities. Working with Senate leadership provided Christine with an insider's special understanding of the relationships among the branches of the U.S. government. Subsequently, working for a trade association, she led industrywide coalitions focused on reauthorizing our national clean air, safe drinking water, and small-quantity waste generation laws and regulations.
Awards and recognitions
2003
Urban Dreams "Understanding Award,"

2003
Key From City of Des Moines, Iowa

1999
Ellis Island Medal of Honor Award
National Ethnic Coalition of Organizations Foundation, Inc.
2002
Woman of the Year Award
Daughters of Penelope
2013
Tuskegee Airmen 2013 Award during Presidential Inauguration of 2013

2009
Gusi Peace Prize Laureate
Economics and Humanitarianism
2004
Opportunities Industrialization Centers International, Leon Sullivan Outstanding Achievement Award

2005
University of Maryland Distinguished Alumnus Award, Health & Human Performance

1998
One of Washington's Finest Professionals
Cystic Fibrosis Foundation
Education and admissions
Education
Ph.D., University of Maryland, College Park, 1993
M.S., University of Maryland, College Park, 1975
Memberships
Board Member, Friends of the Children of Angola and Human Trafficking Foundation
Board Member, National Museum of African Art, Smithsonian Institute
Board Member, Sister Cities International
Founding President, Hellenic American Women's Council
Member, Business Advisory Board, Opportunities Industrialization Centers International
Member, Woodrow Wilson Center's Council
Representative experience
Worked over many years in the health research community for national patient organizations, universities, and companies.
Advised international nonprofit organizations in the development of water technologies.
Worked with Native American entities on health-related initiatives in federal and local contracting agencies.
Involved in creating national public health guidelines for the storage and delivery of vaccines.
Facilitated funding for a study on evidenced-based technology to treat U.S. military service members and veterans suffering from mental health issues.
Participated in the enactment of pension reform legislation in 2014.
Involved in the adoption of the Convention on the Elimination of Discrimination Against Women Treaty.
Pursued international and domestic oil and gas production supplies on behalf of a buyer.
Lobbied on behalf of the private mortgage insurance industry for more than 20 years.
Participated in an effort to enhance the education and awareness of the impact of lupus on our military and U.S. populations.
Was involved in facilitating osteoporosis research within the Department of Defense.
Was successful in obtaining U.S. federal funding to provide the military with technology to combat bacteria in water supplies during war.
Worked with the US Medical Research and Materiel Command at Fort Detrick on the issues of depression and PTSD among service members and veterans.
Helped organize a program to assist with re-entry of veterans into civilian life.
Involved in telemedicine initiatives both domestically and abroad.
Involved with energy efficiency technologies related to water pumps within buildings.
Involved with obtaining funding for several medical and nonmedical universities.
Involved with HIV/AIDS advocacy work in both research and education.
Developed and helped replicate programs for the re-entry into society of U.S. ex-offenders.
Involved in the construction and security industry and helped forge long-term contract relationships.