Catherine Robert
Professional Support Lawyer
London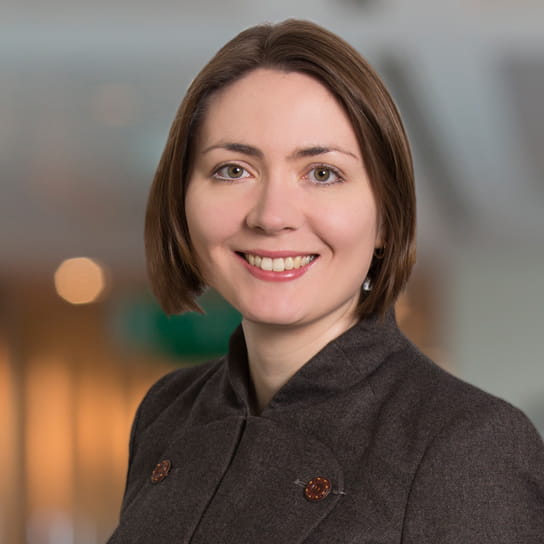 Practice Group
Litigation
Catherine Robert helps financial institutions manage and reduce their risks. She has vast experience helping clients navigate the minefield of financial sanctions and anti-money laundering legislation. She also has over 10 years of experience in commercial and banking litigation, ranging from cross-border disputes to group claims brought by consumers. She has assisted clients with cases spanning the county courts to the UK Supreme Court, as well as arbitrations. Many of her cases are cross-border in nature, and she regularly works with colleagues in our U.S. and European offices to provide a seamless service to clients. She also has a wealth of experience handling investigations and dealing with regulators.
Catherine recently shifted roles and is now a professional support lawyer, but she continues to work on projects to help her clients and advise them on financial crime issues. Catherine regularly develops and runs training sessions for her clients and colleagues on financial crime issues. She also offers training on litigation and regulatory investigations and ensures that her colleagues are up to date on key developments affecting our clients. She is also working on thought leadership projects for Hogan Lovells.
Representative Experience
Advising a global bank on a cross-border investigation into potential breaches of financial sanctions and anti-money laundering regulations.
Advising major banks and other corporates on whether their business activities comply with UK and EU sanctions against Iran and other countries.
Assisting with the preparation of an expert report on the UK financial sanctions and counter-terrorist financing regimes for U.S. court proceedings.
Advising on the impact of UK financial sanctions and anti-money laundering regulations on the development of new products and services.
Helping clients to navigate the anti-money laundering consent regime and deal with regulators.
Developing and giving training to colleagues and clients on financial crime issues and on how to deal with litigation.
Acting for a global bank on a cross-border investigation into alleged employee misconduct and fraud.
Acting on test case proceedings in relation to overdraft charges Office of Fair Trading v Abbey National PLC & Others and dealing with mass claims.
Advising a major lender on potential liability to consumers for alleged fraudulent misrepresentations made by a supplier.
Advising a major European bank in relation to an UNCITRAL arbitration in London arising from breach of warranty claims.
Latest thinking and events
International Trade Alert
Hogan Lovells Publications
Hogan Lovells Publications
Hogan Lovells Publications
Immigration and International Trade Alert