Caroline Moore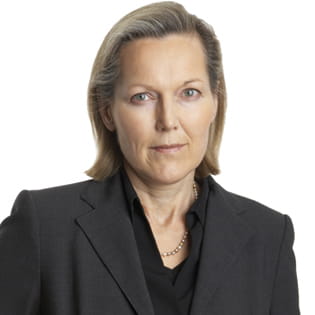 Practice Group
Litigation
Caroline acts for the manufacturers of pharmaceuticals, medical devices and other healthcare products in relation to product liability claims and risk management. She also advises on product liability risk management relating to mobile telecommunications. Most of her work has a medical and/or scientific component. She is responsible for, and works closely with, the post-doctoral scientists who make up the Hogan Lovells Science Unit.
Caroline practised at the bar for 10 years before joining the Commercial Litigation Group at Lovells in 1995.
'Of medical issues and an ability to master detail and analyse medical scientific papers which not everyone has.'
'Caroline Moore possesses a wealth of experience in representing manufacturers in both contentious and non-contentious matters involving pharmaceutical, health and mobile communications providers. Sources say:She has a depth of knowledge and understanding
Representative experience
Acting for the manufacturer of a widely used painkiller in respect of international product liability litigation and regulatory matters.
Acting for a US supplier of blood therapies in relation to HIV and HCV contamination claims in English litigation.
Acting for pharmaceutical companies in relation to claims arising out of clinical trials and other injury claims.
Acting for medical device manufacturers in claims alleging defects in hip prostheses.
Advising manufacturers of other medical and dental devices on recalls and personal injury claims.
Advising a healthcare company on advance purchase agreements with the UK government.
Advising a leading mobile phone network provider and manufacturer on matters relating to human exposure to radio frequency radiation.
Acted for Merck in the defence of claims brought on behalf of children suffering from autism and other disorders alleged to have been caused by the MMR (measles, mumps and rubella) vaccine.
Advising vaccine manufacturers in relation to personal injury claims and risk management.
2010
"...invaluable in cases involving complex scientific or medical issues."
Chambers UK
2012
"terrific, really among the best."
Chambers UK
2012
A Leading Individual in Band 2 (Product Liability: Mainly defendant UK-wide)
Chambers UK
2014 and 2015
listed as a "Europe star" for non-IP litigation
LMG Life Sciences
2015
Listed as a leader in the field of product liability: "...widely regarded as 'one of the most knowledgeable and experienced' lawyers in this area of law"
Who's Who Legal - Life Sciences
2016
Combines her strong product liability practice with her expertise in international life sciences. She is frequently instructed in key cases involving medicines and medical devices. Peers describe her as "really clever" and "a good opponent who really knows what she is doing."
Who's Who Legal - Life Sciences
2016
Women in Business Law, listed in 2016 Guide to the world's leading women in business law for product liability in the UK
Who's Who Legal - Life Sciences
Latest thinking and events
Hogan Lovells Publications
Product Liability Alert