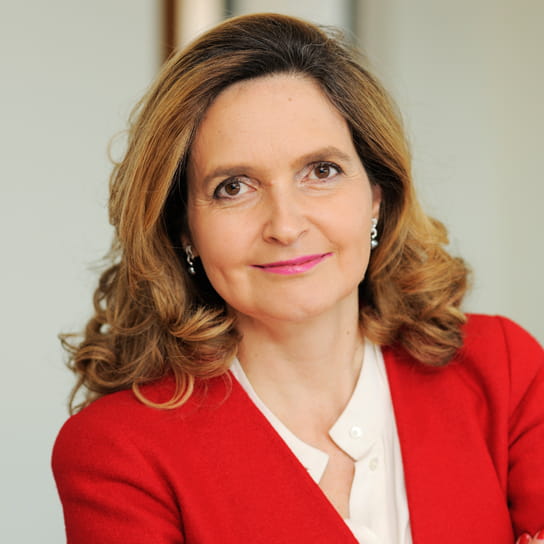 Carmen Núñez-Lagos
PartnerParis
Clients say that Carmen "combines a very practical approach with high technical knowledge."

Chambers Global, 2019
Finding the best strategy to solve complex international disputes in a pragmatic way is key for business interests.
Carmen Núñez-Lagos works at removing a potential source of business conflict, preventing its escalation into an international dispute, and finding the way back to a cooperative and productive working relationship.
A partner in the firm's Paris office international arbitration group with more than 28 years' experience in international disputes, she takes the lead in mediation and arbitration proceedings, guiding clients in their infrastructure, energy, environment projects and telecoms.
Carmen is also praised as an arbitrator. Whether it is as President, co-arbitrator or sole arbitrator, she is regularly appointed in arbitration proceedings and is listed on the roster of arbitrators of the main international arbitration institutions, including, at the CAS in Lausanne. "Carmen's intellectual creativity has made a considerable imprint on arbitral jurisprudence. Her professional background, coupled with her human touch, are key to her success and widespread acceptance", GAR.
Chambers Global 2018 stated: "Sources praise she is a very wise and pragmatic lawyer, taking the lead in the proceedings with due care and efficiency". With a special command in ICC arbitrations, as well as in ICSID investment disputes, she acts on jurisdictions around the world, with a specific knowledge of Africa, Europe and Latin America where she manages to reconcile common law and civil law concepts in a multilingual environment. She is regarded as "a brilliant lawyer with a strong personality and a profound knowledge of international business law", GAR.
Chambers Global 2017 "She has as excellent command of the law and the facts". "She turned complicated legal issues into plain language so that people could quickly grasp what actions needed to be taken. Built a rapport with the clients extraordinary will. Spot-on in identifying the challenges and weaknesses.
Awards and recognitions
2018-2019
Dispute Resolution: International Arbitration (France)
Chambers Global
2019
Ranked for Arbitration and Mediation and International Arbitration
Best Lawyers France
2018-2019
Dispute Resolution (Spain), Expertise Based Abroad (France)
Chambers Global
2018
Latin America's Top 100 Female Lawyers
Latinvex
2017
Commercial Arbitration
Expert Guides
2016
Ranked in LMG Rising Stars

Education and admissions
Education
LL.M with Honors, Exeter University School of Law, 1990
University of Bologna, 1989
University of Zaragoza, 1989
Memberships
Appointed to the panel of arbitrators of several institutions, inter alia: ICC, LCIA, Madrid Court of Arbitration, Milan Court of Arbitration, AIAC
Chartered Institute of Arbitrators (CIArb)
Former President of the French Chapter of the Spanish Arbitration Club
ICC Commission on Arbitration
ICC Institute of World Business Law
ICC Task Force on arbitration involving States or State Entities: drafting committee
ICC Task Force on Emergency Arbitrator Proceedings: drafting committee
Member of the European user's council of the LCIA
Bar admissions and qualifications
Madrid
Paris
Representative experience
Representing an Asian company in ICSID arbitration against a Middle East country in the oil and gas industries.
Representing a French investor in ICSID arbitration against an Eastern European State arising out of tax reforms.
Representing a North African sovereign wealth fund in ICC arbitration proceedings in relation to several of its investments in Africa.
Representing a Latin American state in ICSID and UNCITRAL arbitrations by companies in the fertilizer and food industries.
Advising a Latin America state-owned company in arbitration proceedings against a U.S. infrastructure company in relation to the construction of a hydrocarbon plant.
Advising a Mexican state-related entity in relation to the freezing of its assets in a European country.
Representing a major state-owned company in an OHADA arbitration case relating to the nationalisation of assets in an African State.
Assisting a French multinational company in pre-arbitration proceedings against a North America company regarding a contract for the supply of equipment for an aluminium plant.
Acting as President and co-arbitrator (nominated by the party) in several arbitrations relating to post-acquisition disputes. Acting as well as co-arbitrator in several construction dispute cases.