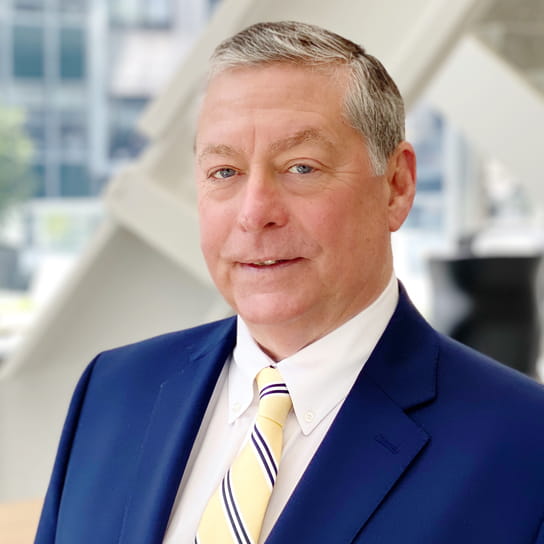 The Honorable Kevin Carey (Ret.) represents both companies and creditors as they navigate the treacherous waters of domestic and cross-border bankruptcy proceedings.  He has an active mediation practice in both federal and state courts across a broad spectrum of industries, conducting complex chapter 11 plan and multiple-issue mediations.  Judge Carey serves as independent manager in both distressed and non-distressed environments.  He is an expert witness in US federal and state courts and in cross border disputes. 
Judge Carey previously served as U.S. Bankruptcy Judge for the Eastern District of Pennsylvania from 2001 to 2005, when he was appointed to the U.S. Bankruptcy Court, District of Delaware. During that time he authored more than 200 reported decisions, issued important rulings on key issues such as valuation, fiduciary duties, and other complex Chapter 11 confirmation issues, and presided over high-profile cases including Exide Technologies, Tribune Co., and New Century Financial.
Judge Carey joined the firm following his time on the U.S. Bankruptcy Court, District of Delaware, where he earned a reputation as one of the nation's top bankruptcy judges. Having overseen cases worth billions of dollars with wide-ranging implications, he serves as an important resource in both US restructurings and during multinational proceedings. 
He is the immediate past president of the American Bankruptcy Institute and sits on the executive committee of the ABI Board of  Directors.  He is  fellow of the American College of Bankruptcy and a member of the International Insolvency Institute, and was the first judge to serve as global chair of the Turnaround Management Association. He lectures worldwide on bankruptcy and cross-border issues, and has taught several bankruptcy related university programs, including at St. John's, Temple University, and Villanova. Judge Carey is also a contributing author to Collier on Bankruptcy, the leading treatise on U.S. bankruptcy law.
Education
J.D., Villanova University School of Law, 1979
B.A., Pennsylvania State University, 1976
Bar admissions and qualifications
Memberships
Fellow, American College of Bankruptcy
President, American Bankruptcy Institute
Member, International Insolvency Institute
500 Leading Global Restructuring & Insolvency Lawyers
Lawdragon
2020
Finance: Restructuring (Including Bankruptcy): Corporate, Recommended
Legal 500 US
2020
Honorary member
Turnaround Management Association
2018
Restructuring and Distressed Investing Hall of Fame
Turnaround Management Association
2018
Press releases
23 April 2021
Awards & rankings
07 December 2020
Awards & rankings
17 October 2019
View more press releases
Sponsorships and Speaking Engagements
12 July 2022 | 2:00 PM - 3:15 PM (ET)
Sponsorships and Speaking Engagements
21 April 2021 | 3:00 PM - 4:00 PM
Sponsorships and Speaking Engagements
29 October 2020
View more events