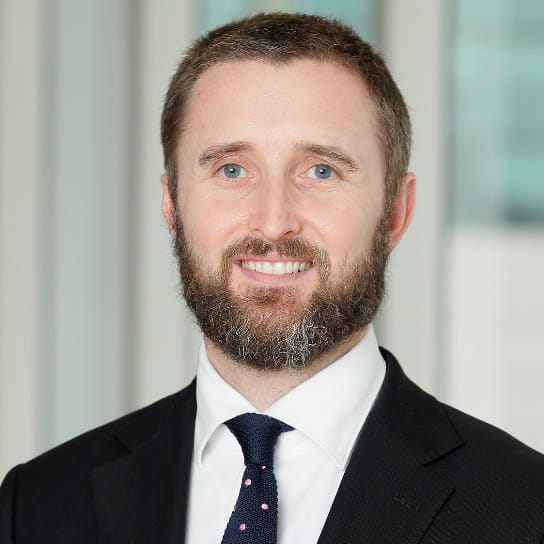 Michael Brady
CounselPerth
Michael Brady brings a wealth of experience and a pragmatic, client focused approach to the ambit of issues that arise in the areas of energy and resources, and corporate and securities law.
Michael primarily works with clients in the natural resources, oil and gas, mining, construction, technology, and commodities sectors. He advises on domestic and cross-border transactions, government and third-party contracting, permitting and access, regulatory and compliance matters, as well as, mergers and acquisitions, capital raisings, and on and off market corporate advisory matters.
Michael has considerable multi-jurisdictional and multi-commodity experience that spans the entire life cycle of energy and resources projects from acquisition, risk assessment and sharing, structuring and financing, to commercialization, expansions and bolt-on investments, divestment and rehabilitation. As well as assessing, strategizing, negotiating, documenting and closing transactions, Michael provides advice on regulatory, governance, compliance, and approvals together with commercial, corporate, and technical legal matters that arise for project stakeholders.
He is an active member of the Australian Mining and Petroleum Law Association (AMPLA) that sits on the WA State Committee (Committee) and is one of the Committee's two representatives on the WA Government's Department of Mines, Industry Regulation and Safety (DMIRS) Resources Industry Consultative Committee (RICC).
Prior to joining Hogan Lovells, Michael held senior roles at large Australian based law firms and has also served as the general counsel and company secretary of an Australian Securities Exchange (ASX) listed natural resources exploration and development company.



Education and admissions
Education
Master of Laws in Corporate, Energy and Resources, Melbourne University, 2016
Graduate Certificate in Applied Finance, Financial Services Institute of Australasia (FINSIA), 2011
Bachelor of Laws, Murdoch University, 2007
Bachelor of Psychology, Murdoch University, 2007
Memberships
Law Society of Western Australia
Australian Institute of Company Directors
Australian Mining and Petroleum Law Association (AMPLA)
Rocky Mountain Mineral Law Foundation
The Chamber of Minerals & Energy of Western Australia
Court admissions
Supreme Court of Western Australia
Federal Court of Australia
High Court of Australia
Representative experience
Advised Allied Gold Corp on the acquisition of F&M Gold Resources Ltd the holder of the Bonikro, Hiré and Dougbafla Gold Mines in Cote d'Ivoire.
Advised Allied Gold Corp on a facility, gold stream, subscription and offtake financing package from Orion Resource Partners (UK) LLP to fund Alllied's Cote d'Ivoire operations.
Advising Allied Gold Corp on its acquisition of the Sadiola Gold Mine in the Kayes region of Western Mali from AngloGoldAshanti Limited and IAMGold Corporation
Advised the minority joint venture participants on numerous upstream and downstream matters pertaining to the Ichthys liquefied natural gas (LNG) project.
Advising Tokyo Gas in relation to its world first co-buyer agreement with Centrica which back-to-backs LNG sales from the Mozambique LNG Project with Woodside.
Advising Peninsula Energy Limited on its renounceable rights issues to support the Lance Uranium Project, located in Wyoming, USA.
Assisting with aspects of Alinta Energy's financing of Australia's largest off-grid solar farm to power mining projects located in the Pilbara region, WA.
Advised Macquarie Bank Limited on its life of mine offtake agreement for coal sourced from the TBR mine in Indonesia operated by Geo Coal International.
Advised on aspects of a large agri-business' proposed disposal of an interest in a Gabon fertilizer plant and related joint venture, offtake, and marketing arrangements.
Advised on the Australian aspects of tire manufacturer Michelin's acquisition of off-road tire manufacturer Camso, for US$1.45b.
Advised numerous clients on Australia's foreign investment rules and successfully obtaining Foreign Investment Review Board clearance for the proposed transactions.
Advised clients in relation to State Agreement (Government contract) issues, including negotiating associated matters with the WA State Government.
Advised an international energy company on its acquisitions of strategic interests in both the Prelude floating liquefied natural gas (FLNG) and Ichthys LNG projects, located offshore north west WA. *
Advised an ASX listed target with Asia Pacific region coal assets on aspects of a successful scheme of arrangement completed by a Singapore Exchange listed acquirer. *
Advised an industrial minerals company on aspects of its spin-off initial public offering (IPO), which ended 2017 as one of the year's most successful IPOs, by share performance. *
Advised a private equity firm on aspects of its structured finance and gold prepayment arrangements for a significant WA gold/nickel mine. *
Advised an ASX listed company on extending its Commonwealth Government approvals to source, store and export Australian uranium to China. *
*Matter handled prior to joining Hogan Lovells.