Blog: Luxembourg Blog | 10 February 2017
Reserved alternative investment funds
Historically, Luxembourg alternative investment funds (AIF(s)) have been subject to the ongoing supervision of the CSSF. While these Luxembourg fund vehicles have proven very successful and have earned wide recognition from investors and the global asset management community, the adoption of AIFMD has triggered a double-layer of supervision extended to encompass the Managers.
Consequently, the RAIF aims to synchronise the Luxembourg regime with the new international regulatory emphasis, which has moved from a product focused supervision to a management focused supervision.
The reserved alternative investment fund (RAIF - or fonds d'investissement alternatif réservé) offers an ideal fund vehicle for alternative asset managers.
The RAIF, which replicates to a large extent the regime applicable to the Luxembourg SIF and SICAR, is not itself subject to the prudential supervision by the Luxembourg supervisory authority (Commission de Surveillance du Secteur Financier, CSSF).
Nonetheless, investors can avail themselves of some level of regulatory protection through the requirement that a RAIF has to be managed by a duly authorised external alternative investment fund manager (AIFM). In addition, a RAIF has to appoint a depositary for its assets and an approved statutory auditor to audit its accounts.
The RAIF is a game-changer for the Luxembourg alternative asset management industry since it offers managers an expedited time-to-market for their products. Furthermore, the RAIF offers structuring flexibilities such as segregated compartments (that can cross invest between each other) which previously were not available for these type of vehicles.
The RAIF is not available to AIFMs that benefit from an exemption under the Alternative Investment Fund Managers Directive (AIFMD) as f.i., the so-called sub-threshold AIFMs.
It is important to note that the AIFMD marketing passport is available to RAIFs.
To find out more, please click here to read our RAIF guide.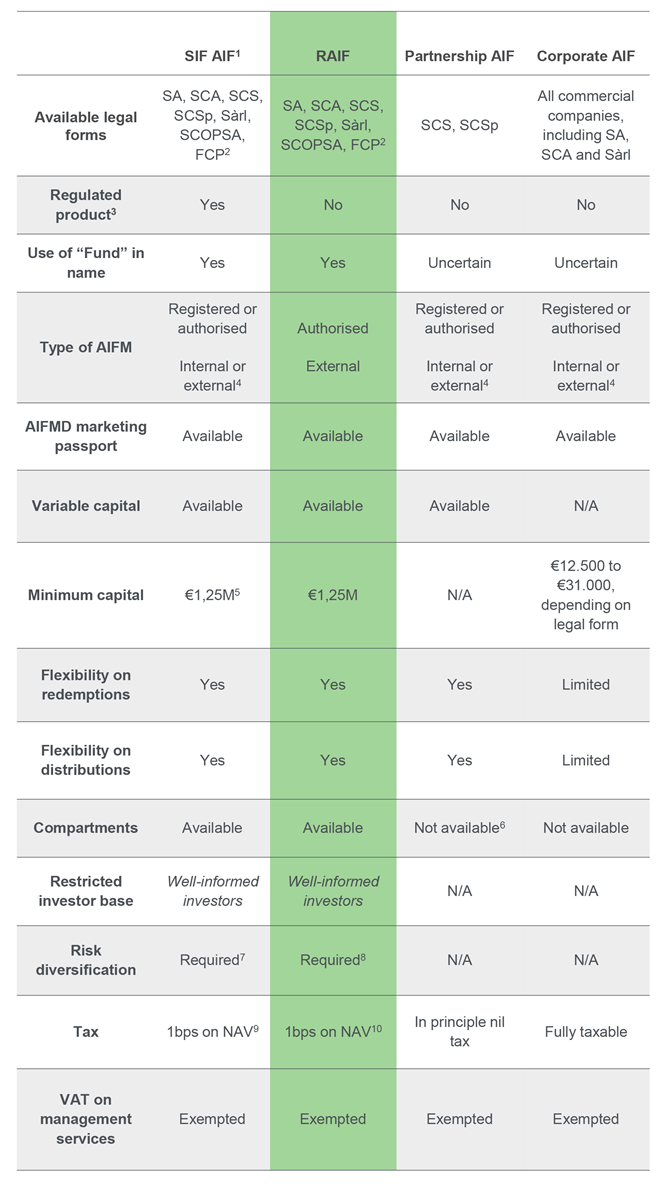 [1] Applicable to SICARs unless stated otherwise.
[2] FCPs not available for SICARs or RAIFs investing in risk capital.
[3] AIFM being however authorised/registered.
[4] Depending on the legal form, only an external AIFM can be appointed.
[5] €1M for SICARs.
[6] Arguably possible on a mere contractual basis but without legal foundation.
[7] 30% rule; not required for SICARs.
[8] Adequate risk diversification to be defined by management board; not required for RAIFs investing in risk capital.
[9] Exemptions are available; not applicable to SICARs; nil tax on investments in risk capital.
[10] Exemptions are available; not applicable to RAIFs investing in risk capital: nil tax on investments in risk capital.
Back to main blog