Blog: Luxembourg Blog | 23 September 2019
Luxembourg Space Glossary
This glossary aims at explaining frequently used terms in space sector in a simple manner.
Space resources are commonly defined as abiotic resources situated outside of our atmosphere that can be extracted. This definition should include minerals or water, but doesn't include orbital positions or frequency.
According to the major part of the legal literature on the matter, space resources should be exploited in line with international law by analogy to the rules governing the exploitation of maritime resources. This would mean that space resources can be acquired and owned. Celestial bodies and asteroids, however, cannot.1
1 Pierre Reuter and Simon Recher in Aiming for the Moon, landing among the Stars
The Luxembourg Space Mining Law - The law of 20 July 2017 on the exploration and use of space resources, is both innovative and unique.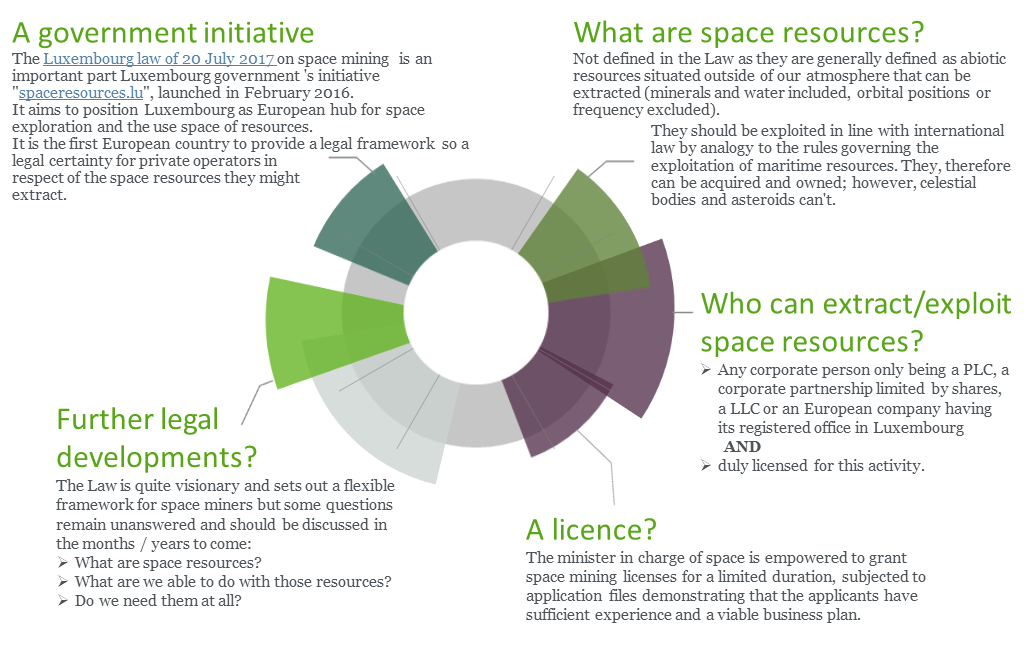 Explanation by Pierre Reuter and Simon Recher.
Asteroids are the 4.6 billion-year-old remains of our solar system's formation. They range in size from less than 10 meters to about 530 km in diameter. Most have odd, non-spherical shapes and they may have irregular rotations, 'sometimes tumbling quite erratically' as they orbit the sun. Most asteroids orbit in the main asteroid belt between Mars and Jupiter. This belt contains more than a million asteroids, but is so far away that it would be very difficult with existing technology to utilise their resources.
Despite modern advancements in scientific understanding of asteroids, there is still considerable uncertainty about how many and which asteroids contain valuable resources. Based on what scientists have been able to ascertain, there appear to be three general classes of asteroids: C-, S- and M-types. C-type asteroids are likely made up of clay and silicate rocks, S-types consist of silicate rocks and nickeliron, and M-types are composed of nickel-iron. Although different asteroid types are made up of different component elements, 'some are rich in the platinum group materials and other highly valued metals'. For context, it has been estimated that the value of a single platinum-bearing asteroid could be between USD 25bn and USD 50bn.
Scot W Anderson, Korey Christensen & Julia LaManna (2018): The development of natural resources in outer space, Journal of Energy & Natural Resources Law
When using the term Outer Space Treaty, we mean Treaty on Principles Governing the Activities of States in the Exploration and Use of Outer Space, including the Moon and Other Celestial Bodies dated 19 December 1966. This treaty has been ratified by Luxembourg.
It provides the basic framework on international space law.
For more Information check out the dedicated page website of the United Nations Office for Outer Space Affairs
The Luxembourg Space Agency aims to promote the space industry in Luxembourg (space mining, telecom, satellite, etc.) by:
Being a support provider to this industry,
Fostering already located businesses and new joiners to the Luxembourg space sector,
Developing related talent pool,
Granting access to financing (of all sources and forms),
Giving support to learning and research programs (such as the Space Master at Luxembourg University for instance)
Check out their website!
When referring to the Moon Agreement, we mean the Agreement Governing the Activities of States on the Moon and Other Celestial Bodies dated 1979. As of 1 April 2019 Luxembourg has not signed the Moon Agreement.
For more information, check out the dedicated page on the
website of the United Nations Office for Outer Space Affairs
When speaking about the Rescue Agreement, we mean Agreement on the Rescue of Astronauts, the Return of Astronauts and the Return of Objects Launched into Outer Space dated 1968. Among others, the aim of this agreement is to make sure that all possible steps are taken to rescue and assist astronauts in distress and promptly return them to the launching State.
Luxembourg has signed the Agreement.
For more information, check out the dedicated page on website of the
website of the United Nations Office for Outer Space Affairs
The Asteroid Day is a UN awareness and educational initiative, on a global scale, which gathered each year, on 30 June, thousands of self-organized events around the world. More precisely, this initiative aims at:
raising attention on the important role of asteroids in the formation of the universe,
informing on the means of using asteroids' resources,
raising attention on how they are useful for future exploration,
informing on how we can protect our planet from their impacts.
The date of 30 June corresponds to the anniversary of the 1908 Tunguska impact.
The initiative has been launched in 2014 by:
Brian May, astrophysicist and lead guitarist of Queen,
Danica Remy, President of B612 Foundation,
Rusty Schweickart, Apollo 9 Astronaut,
Grig Richters, filmmaker.
In 2016, the United Nations officially designated Asteroid Day as the international day of awareness and education about asteroids.

In Luxembourg, the Asteroid Day is a program run by the Asteroid Foundation, a Luxembourg nonprofit organization. More details here
When we refer to the Liability Convention, we mean Convention on International Liability for Damage Caused by Space Objects dated 1972. Among others, this convention sets out the launching State is liable for damage caused by its space objects on the surface of the Earth or to aircraft, and liable for damage due to its faults in space. Luxembourg has ratified this convention.

For more information, check out the dedicated page on website of the United Nations Office for Outer Space Affairs
When speaking about the Registration Convention, we refer to Convention on Registration of Objects Launched into Outer Space dated 1975. The aim of the convention is to provide States with a means to assist in the identification of space objects. As of 1 April 2019 Luxembourg has not signed the Convention.

For more information, check out the dedicated page on website of the United Nations Office for Outer Space Affairs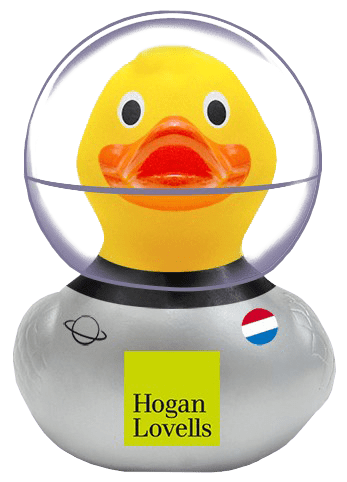 Back to main blog