Blog: Luxembourg Blog | 12 October 2018
ATAD, what's in it for Luxembourg?
Gérard Neiens, partner, and Pierre-Luc Wolff, associate, in the tax practice of Hogan Lovells Luxembourg, shared their views on the impact of the implementation of the Anti-Tax Avoidance Directive (ATAD) on the Luxembourg market.
In a few words, would you explain what ATAD is?
In a nutshell, ATAD is the European Union answer to the OECD Base Erosion and Profit shifting action plan, commonly referred to as BEPS. This plan aims to tackle tax avoidance schemes that misuse gaps and mismatches in tax rules to shift profits artificially to low- or no-tax locations.
Like BEPS, ATAD aims at stopping companies from abusing national mismatches between EU Member States to avoid taxation as well as generally tackling aggressive tax planning in the EU market. Further, it aspires to ensure that taxes are paid where the value is created. To achieve these goals, ATAD sets out identical rules for all the players of the game so that in particular multinational companies (including GAFA - Google, Apple, Facebook and Amazon – and others) cannot shelter their profits in low- or no-tax jurisdiction.
In practice, what does ATAD entail for Luxembourg?
The Bill introduced before the Luxembourg Parliament on 19 June 2018 implementing
ATAD
into Luxembourg law is currently being examined and 5 actions are being contemplated: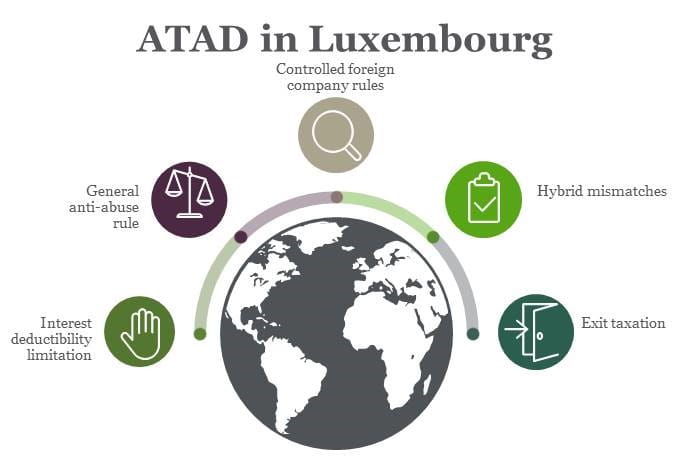 As most of us are not tax practitioners, would you give us more details on these actions and their impacts on the Luxembourg tax legislation?
This rule aims to limit the deduction of interest payments if they exceed 30% of the corporate taxpayer's earnings before interest, taxes, depreciation and amortisation (EBITDA). As such, this disallowance of deduction for Luxembourg tax purposes will increase the taxable basis of the corporate taxpayer accordingly.
This new rule is a 'minimum standard', meaning that Luxembourg, whilst having to implement this rule, has, however, some flexibility. As such, and subject to the final approval of the Bill, we welcome that our Government took the maximum 30% EBITDA limitation choice (and not a percentage below) as well as the decision to include a safe harbour clause which provides that interest expense should be deductible for at least EUR 3 million, irrespective of the EBITDA.
Though this rule is new in the Luxembourg tax legislation (compared to, for instance, Germany, which introduced similar provisions already 10 years ago), it will not have an impact on all Luxembourg tax resident companies. Indeed, our current thin-capitalisation and transfer-pricing rules tackle already excessive debt financing and non-arm's length interest payments. Further, this rule should not impact Luxembourg companies carrying out back-to-back financing activities. However, we can only recommend performing a case-by-case analysis given the importance of this rule and the potential negative tax impacts it may have on certain types of structures or even vehicles (eg certain securitisation vehicles).
Our existing Luxembourg general anti-abuse rule (
GAAR
) will be amended to come closer to the wording of the
ATAD
's
GAAR
. As a result, certain situations not currently within this definition could be considered in the future as abusive. For instance, with the new
GAAR
, a structure may, contrary to the current
GAAR
, be considered as abusive if only one of the main purposes of the arrangement is to get a tax advantage.
Whilst it needs to be monitored whether these changes will have an impact on the application of the current GAAR as established by relevant case law, we currently do not anticipate a major impact as a result of this alignment. It is interesting to note in this context that the new GAAR is almost identical to the special anti-abuse rule (SAAR) included from 2016 for the application of the Luxembourg participation exemption regime. It will definitely be interesting to see how the new GAAR and the SAAR will relate to each other and how the provisions will be interpreted by the courts of the different Member States.
3. Controlled foreign company rules
CFC
is a brand new concept in Luxembourg, which aims to attribute income to a Luxembourg company when its subsidiary or permanent establishment is located in a low- or no-tax jurisdiction, and this even if this income is not distributed.
This rule should, however, only apply: (i) when specific holding thresholds are met; and (ii) to the extent that this income relates to significant functions carried out by the Luxembourg parent company. As such, in the absence of any significant people functions carried out in Luxembourg, no adverse tax consequences should be triggered. These CFC rules are commonly referred under ATAD as Option B, which is, in our opinion, a better choice compared to Option A, which has been chosen by most of the other Member States. Indeed, Option A aims to include all types of passive income (dividends, interests, etc) unless the CFC carries out a substantive economic activity. As such, Option A is less favourable, in our view, as it may include multiple passive income inclusions and further involve a higher administrative burden to prove that each CFC carries out a substantive economic activity.
With the choice of Option B made by our Government, and subject to the final approval of the Bill , we do not anticipate that this rule, even though new, will have a major impact in Luxembourg as often the required criteria will not be met. This should, of course, be reviewed on a case-by-case basis.
This rule will tackle the tax advantages under hybrid mismatches resulting from a different classification by two different Member States of a legal instrument or entity which leads for double deductions in both Member States, a deduction in one Member State without a corresponding inclusion in the other or a non-taxation in one Member State without a corresponding inclusion in the other. This rule should, however, only apply to associated enterprises.
This rule should, in our view, not have a major impact as the same concept has already been included for the application of the domestic participation exemption regime. Further, hybrid mismatches are already now under scrutiny in the EU and as such much less used in the recent past.
The concept, well known in Luxembourg, was reshaped not long ago. The new rules under
ATAD
, applicable as from 2020 (without retroactive effect), will now only provide for the mere possibility to spread the tax payment at exit over a period of five years. Hence, it will no more be possible to postpone indefinitely the exit tax payment in case the company migrates and remains in another EU, an EEA country or in a country with which Luxembourg exchange information in the field of taxation. The choice to include such limitation, which goes beyond the minimum of what was imposed by the
ATAD
, may be unwelcome. However, we can understand the desire of our Government to deal differently with such exit tax payments for administrative and cash management purposes. Further, whilst this limitation will have a certain negative impact, its consequences for Luxembourg financial actors should be limited as, in our experience, the need to rely on such
exit tax
deferral is rather exceptional.
If uniform rules apply across the EU, how will Luxembourg stay attractive after ATAD?
The EU Member States have some flexibility regarding the implementation of certain ATAD actions. The Luxembourg Government has chosen what we can qualify as the best choices available, which is not the case in some other competing Member States. This approach can only be seen as a great opportunity for Luxembourg. Of course, besides its tax environment, it goes without saying that Luxembourg also has quite significant other arrows in its quiver that make it very attractive for multinationals and investors.
The ATAD Bill needs to be implemented before 1 January 2019. The legislation process is currently taking place and it is possible that some amendments will be made.
Click on the terms underlined and in bold to get a brief description.
Back to main blog