Blog: Focus On Regulation | 18 June 2012
FWS Decides Not to List Dunes Sagebrush Lizard as Endangered Species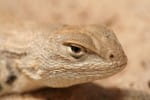 In deciding to withdraw a proposed rule to list the dunes sagebrush lizard as an endangered species, the Fish and Wildlife Service (FWS) has signaled yet again its growing preference for landowner cooperation in the development and implementation of conservation strategies.
According to state and industry representatives, listing of the three-inch lizard, which occupies a specialized habitat of shinnery oak dunes in the Permian basin of New Mexico and Texas, threatened to wreak havoc with oil and gas production in this oil-rich region. To forestall the need for a listing and the designation of critical habitat, FWS proffered candidate conservation agreements (CCA) and candidate conservation agreements with assurances (CCAA), in which landowners agree to adopt a specific suite of conservation measures to benefit the lizard. Substantial numbers of landowners entered into these agreements, extending protections to over 80% of affected habitat. In announcing its decision not to list, FWS cited the "unprecedented" enrollment of private lands in separate New Mexico and Texas conservation programs as support for its updated conclusion that "the lizard is neither in danger of extinction nor likely to become endangered in the foreseeable future".
The announcement follows an earlier (March 15, 2012) advance notice of proposed rule-making, in which FWS sought suggestions of the ways in which landowner cooperation could be extended to species which are not yet candidates for listing, in order to induce "advance mitigation" or "pre-listing mitigation". An earlier post on the ANPRM can be found here.   
FWS's decision not to list the dunes sagebrush lizard drew bi-partisan praise from the Congress and oil and gas producers, but a note of caution from environmental advocates. Some environmental groups are skeptical that voluntary compliance can be an effective conservation alternative to the strict regulatory prohibitions and penalties of the Endangered Species Act. At least one group, the Environmental Defense Fund, issued a statement supporting the decision not to list the dunes sagebrush lizard and the use of CCAs to protect the species. More information on FWS's decision and on the dunes sagebrush lizard is available on the FWS Southwest Region website.
Back to main blog