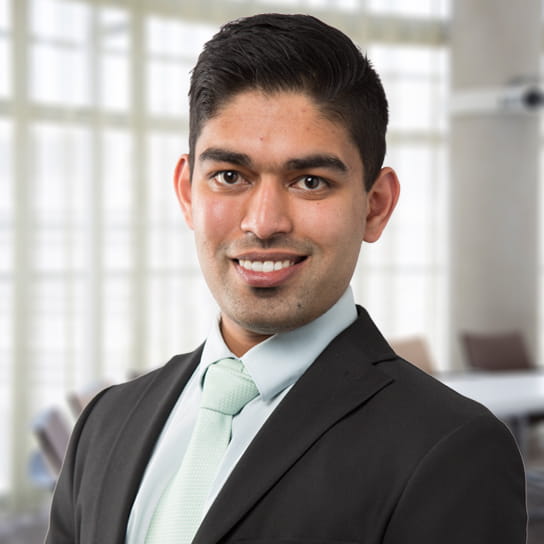 Nikhil Bhogal focuses on corporate law with emphasis on mergers and acquisitions, business restructurings, black economic empowerment, competition law, and corporate governance.
Forming part of the Hogan Lovells Africa Desk, Nikhil assists multinationals who wish to expand their business footprint across Africa and provides strategically relevant advice on how to navigate the regulatory framework in Africa.
In this regard, he advises clients in respect of both inbound investments as well as outbound investments, whether in the form of acquiring the securities/business of the relevant target company or forming a joint-venture.
Education and admissions
Education
Advanced Company Law 1, University of the Witwatersrand, 2018
Advanced Short Course in Business Rescue, University of South Africa, 2016
LL.B., University of KwaZulu-Natal, 2014
Court admissions
South Africa
Representative experience
Advising a multinational Chinese company involved in metal processing and beneficiation in a ZAR660m acquisition of a locally financially distressed mining company.
Advising a multinational charter and aviation company regarding a ZAR200m disposal of shares of a local subsidiary engaged in aviation maintenance, repair and overhaul.
Assisting a multinational LSE-listed mining supplier with the disposal of its local service and distribution business operations to a third JSE-listed party.
Advising Mylan SA, affiliate of Mylan N.V. (a NASDAQ-listed pharmaceutical generic company) on a strategic investment in share purchases worth approximately ZAR130m.
Advising a German-headquartered multinational manufacturer in industrial automation processes in acquiring the entire issued share capital in respect of one of its local distributors.
Assisting a local cash management service provider in forming a wholesale cash industry forum with a number of industry participants.
Advising a local affiliate forming part of a NASDAQ-listed company with regard to a long-term intellectual property licencing agreement worth approximately ZAR670m.
Assisting a California-based ICT company with setting up a suite of agreements to provide broadcasting of programmed content to some 22 African jurisdictions.