Barry J. Thompson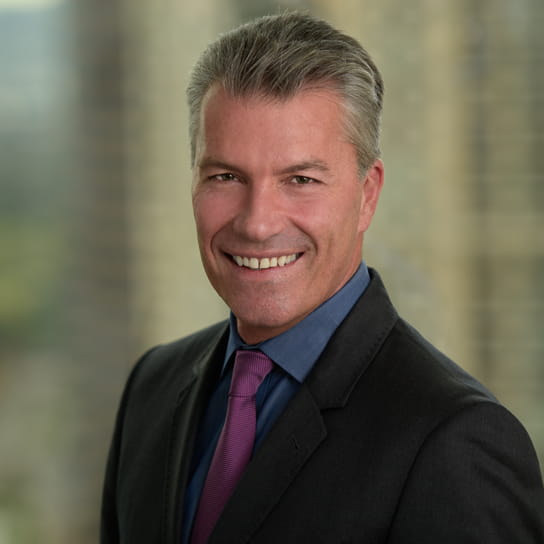 Practice Group
Litigation
With a father in the pharmaceutical industry for decades, it was natural for Barry to practice in the life sciences space. For 25 years, he has worked locally and nationally in the pharmaceutical, medical device, and consumer product industries, defending against "bet the company" products liability and commercial cases brought against these types of companies' critical products.
Described as, "one of the nicest lawyers you'll ever meet," but also one of the most "tenacious litigators in the product's (liability) space," Barry brings a deep understanding of these industries, outstanding trial skills, and a pragmatic approach to solving business-critical issues. Whether serving as a trusted advisor on risk management issues or trying mass tort "bellwether," toxic tort, commercial, or other "bet the company" cases, Barry helps Fortune 500 companies take on their biggest litigation challenges.
Barry also has extensive mock trial experience, having implemented, designed, and presented more than 30 focus group and mock trial exercises across a range of industries and practice areas, including class action, food products, pharmaceuticals, medical devices, and commercial disputes in most major jurisdictions.
"You won't meet a nicer attorney in the industry ... but he is also one of the most tenacious litigators in the product liability space."
"You won't meet a nicer attorney in the industry ... but he is also one of the most tenacious litigators in the product liability space."
Representative experience
Serving as national trial counsel for defendant CR Bard in a mass tort medical litigation involving implanted hernia mesh patches.
Tried first bellwether case in Kugel Mesh products liability MDL to a defense verdict.
Trial captain on 2015 jury trial in federal court in San Francisco. Won plaintiff verdict including: tort, contract, and punitive damages.
Tried one month business torts case to verdict in Fresno (2015); won dismissal of two or three claims and punitives, held verdict low.
National counsel on pharma mass tort litigation over Mirapex product allegedly causing impulse dyscontrol.
Provide risk management advice and counseling regarding hot tub spa user manual.
Advise soft drink company on safety and labeling issues relating to consumer complaints and QC/QA.
Design and conduct mock trial exercise regarding litigation over consumer automotive products with trace benzene.
Mock trial relating to probiotic food product in class action alleging lack of scientific substantiation.
Representation of two top Electronic Dance Music Artists against claims of catastrophic injuries at concerts.
Tried one month long admitted liability burn-PTSD case to jury verdict, holding damages to half of plaintiffs' final settlement demand and a fraction of what plaintiffs asked for in closing.
2016
Top Attorneys in Southern California
Los Angeles Magazine
2012-2017
LMG Life Science Star: Non-IP Litigation and Enforcement
LMG Life Sciences
2015-2017
Product Liability Defense
Who's Who Legal
2013, 2016-2017
Dispute Resolution: Product Liability, Mass Tort, and Class Action: Pharmaceuticals and Medical Devices: Defense
Legal 500 US
2000-2016
AV PreeminentTM Rating
Martindale-Hubbell
Latest thinking and events
Hogan Lovells Events
24 September 2014

Hogan Lovells Publications
International Asbestos Newsletter
Hogan Lovells Publications
International Hazardous Substances Newsletter
Hogan Lovells Publications
International Asbestos Newsletter
Hogan Lovells Publications
International Hazardous Substances Newsletter
Published Works
Hold 'em or Fold 'em: 8 'Cards' Companies Consider Before Trying a Case
The Daily Journal