Barbara Pancer
Senior Associate
Warsaw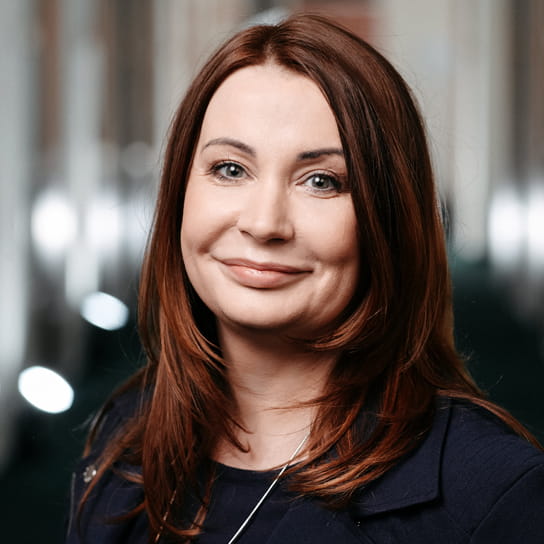 Languages
English, Polish
Having been involved in major real estate and infrastructure projects on the Polish market, Barbara drafts and negotiates agreements related to the entire investment process including development management agreements, EPC and other construction contracts (also based on FIDIC standards), property management agreements and commercial leases. She also deals with projects related to Renewable Energy Sources. She is experienced in many types of real estate projects embracing offices, retail, warehouse and residential. She advises in matters connected with development processes, including planning, permits and construction, civil law and administrative law issues.
She has carried out numerous due diligence. Barbara has written many legal opinions prepared for clients seeking practical solutions to their legal problems. She has worked for institutional and private investors, developers, banks, energy companies, state agencies, landlords, and tenants.Barbara, mostly works on issues regarding the financing of investments: she often cooperates with leading entities on the Polish market which finance large developments and infrastructure projects – mainly shopping and logistic centres.
She also cooperated in negotiating an agreement with the public entity (under the Public-Private Partnership formula) concerning the development of one of the largest incineration plants in Poland, as well as negotiating the related construction contract with a consortium of Polish and foreign companies. She has been a certified legal advisor since 2012, and is fluent in English.
Representative Experience
Advising on the acquisition of the Zlota 44 residential building in Warsaw for Amstar/BBI (due diligence analysis and transaction)
Advising for GDDKiA on various legal issues related to the A2 highway operations.
Advising Neinver on construction project of the railway station and shopping and office center in Katowice.
Drafting over 50 due diligence reports, both for purchasers, vendors and banks.
Drafting and negotiating commercial lease agreements