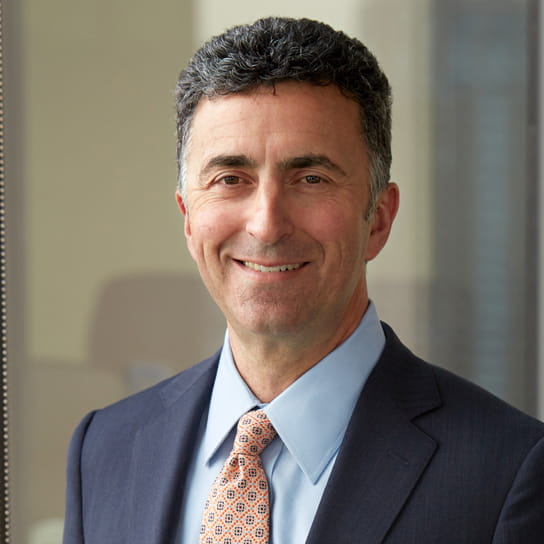 "We typically look for lawyers who approach transactions with a business-oriented and pragmatic approach, and Asher fits the bill perfectly."

Chambers USA, 2018
Asher Rubin leads our Health and Lifestyle sector group, which includes life sciences and health care; consumer; education; and sports, media, and entertainment industries. Asher is also the Global Co-head of our Life Sciences and Health Care industry sector.
Asher has spent the past 20 years working with clients on some of the most exciting new technologies in the life sciences industry, such as CAR-T therapies, checkpoint inhibitors, co-stimulatory proteins, companion diagnostics, digital health technologies, ultra-orphan drugs, and gene therapies.
Asher developed his extensive industry knowledge beginning with his role as in-house counsel and ultimately general counsel of a publicly traded, fully integrated pharmaceutical company.
Currently, Asher represents both private and publicly traded businesses, emerging companies, academic medical centers, inventors, and venture capital and private equity funds in a wide variety of transactions. He has comprehensive knowledge of the full spectrum of the life sciences sector: pharmaceuticals, biotechnology, medical devices, medical technology, digital health, and health services.
Asher has successfully negotiated and completed a range of life sciences transactions, with a particular focus on complex collaborative arrangements. Additionally, he regularly advises clients on venture capital financing, initial public offerings, follow-on financing, mergers and acquisitions, licensing transactions, joint ventures, co-promotion agreements, manufacturing arrangements, royalty acquisitions and divestitures, structured-finance arrangements, and sponsored research.
With six years of service as in-house counsel, he provides practical guidance to CEOs, CFOs, GCs, and other executives on their everyday legal matters, which include board governance, compensation, and employment matters. He regularly serves as a senior advisor to in-house counsel and as an outside general counsel for clients with limited in-house resources.
Awards and recognitions
2020
Life Sciences: Corporate/Commercial (USA)
Chambers Global
2017-2020
Corporate/M&A (Maryland)
Chambers USA
2016-2020
Life Sciences: Corporate/Commercial (Nationwide)
Chambers USA
2020
Industry focus: Healthcare: life sciences, Recommended
Legal 500 US
2018-2020
Healthcare: Life Sciences, Hall of Fame
Legal 500 US
2012-2020
Healthcare: Life Sciences, Leading Lawyer
Legal 500 US
2021
Mergers & Acquisitions Law
The Best Lawyers in America
2017-2020
Acritas Star
Acritas Stars Independently Rated Lawyers
2012-2020
Life Sciences Star
LMG Life Sciences
2021
Business/Corporate (Maryland)
Super Lawyers
Education and admissions
Education
J.D., University of Maryland, Francis King Carey School of Law, The William O. Cunningham Award for Exceptional Service to the School of Law, 1995
B.A., Duke University, 1992
Memberships
Member, Maryland State Bar Association
Member, American Corporate Counsel Association, Baltimore Chapter
Member, American Society of Corporate Secretaries & Governance Professionals
Member, General Counsel Committee, Biotechnology Industry Organization (BIO)
Bar admissions and qualifications
Maryland
Representative experience
Representing Spectrum Pharmaceuticals on the sale of its portfolio of seven FDA-approved hematology and oncology products to Acrotech Biopharma L.L.C.
Representing OPKO, Inc. on its development and commercial licensing agreement with Pfizer, Inc.
Representing OPKO on its licensing agreement with Japan Tobacco for the international development and marketing of Rayaldee.
Representing Intellia Therapeutics in its research collaboration and license agreement with GEMoaB to discover and develop allogeneic cellular immunotherapies for cancers and inflammatory diseases.
Representing Daiichi Sankyo on its joint collaboration with AstraZeneca to develop and commercialize Daiichi Sankyo's DS-1062, a potential new medicine to treat multiple tumor types.
Representing Kiadis Pharma in connection with the acquisition of CytoSen Therapeutics, Inc.
Representing Galera Therapeutics on the development of drugs targeting oxygen metabolic pathways in connection with an US$80m royalty financing with Clarus (later acquired by Blackstone).
Representing NextCure in connection with its formation, US$67m Series A financing, IPO, and follow on offering.
Representing NextCure on its multi-year collaboration with Eli Lilly focused on the discovery and development of immuno-oncology therapies.
Representing NextCure in its license and sponsored research agreements with Yale University.
Representing Exact Sciences Corp. on its collaboration agreement with Pfizer to co-promote Cologaurd, the first and only FDA-approved non-invasive stool DNA screening test for colorectal cancer.
Representing TESARO on its acquisition by GlaxoSmithKline (GSK).
Representing TESARO in its US$101m Series B financing, its IPO, all of its follow-on equity financings, and US$165m notes financing.
Representing TESARO in connection with its acquisition of rights to its niraparib PARP inhibitor, ALK inhibitor, and checkpoint inhibitor programs.
Representing TESARO in its collaboration and license agreement with Janssen Biotech involving niraparib for the treatment of prostate cancer.
Representing TESARO in its exclusive licensing agreement with Takeda for the commercialization and clinical development of niraparib in Japan.
Representing of Amplimmune, Inc. in connection with its sale for up to US$500m to AstraZeneca.
Representing New Enterprise Associates and Apple Tree Partners in several venture capital financings of companies at various stages of development.
Representing the University of Pennsylvania in connection with its exclusive license and collaboration of CAR-T technologies to Novartis.
Representing Immune Design Corp., in connection with its exclusive licenses to a pharmaceutical company for food allergies and HSV.
Representing Braeburn Pharmaceuticals on its US$110m mezzanine round of financing led by Wellington Management Company.
Representing Incyte Corp. in its license and collaboration agreement with MacroGenics relating to an anti-PD-1 antibody.
Representing Vivus on its acquisition of Pancreaze from Janssen Pharmaceuticals and its acquisition of Willow BioPharma.
Representing Fibrocell Science, Inc. on their acquisition by Castle Creek Pharmaceutical, Inc. with a total transaction value of approximately US$63.3m.