Artyom Vazhenin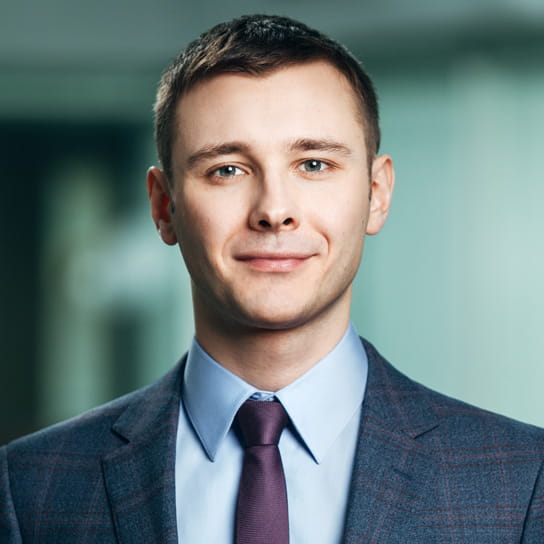 Languages
English, Russian
After nearly eight years with the firm, Artyom has equipped himself with the experience and tools which will assist you in achieving your business needs and goals in areas involving trade and export financing, regulatory, restructuring and insolvency as well as securities market matters. Artyom is a Russian-qualified lawyer and a part of our Moscow Banking team, he has provided overall advice to both international and Russian clients on the legal aspects of a wide range of projects. In addition, Artyom has provided support to clients in a number of token cross-border deals involving syndicates of major international banks (Deutsche Bank, Natixis, Société Générale, Commerzbank, BNP Paribas) and various export credit agencies arranging for financing of leading Russian market players (LUKOIL, Rosneft, SIBUR Holding, Novolipetsk Steel, Vyksa Steel Works).
Artyom has also worked on a wide variety of banking regulatory matters for international financial institutions, major international banks and their Russian affiliates. Key recent matters include the US$ 176m IFC and EBRD investment in Credit Bank of Moscow. On a regular basis, Artyom has given clients coverage on critical regulatory issues and legal developments affecting financial institutions and corporations. In the insolvency area, Artyom has the experience and knowledge to assist you with solving a range of issues and challenges in both Russian and cross-border insolvency matters.
Representative Experience
Advising Deutsche Bank AG as coordinating mandated lead arranger, facility agent, documentation agent and ECA agent of €1.58bn syndicated loans to SIBUR Holding, a major Russian petrochemical producer.
Advising Deutsche Bank as mandated lead arranger of a US$1.2bn pre-export syndicated loan facility to LUKOIL.
Advising Natixis as mandated lead arranger of up to US$800m syndicate pre-export finance facility to Uralkali, one of the world's largest potash producers and exporters.
Advising Société Générale as documentation agent and co-mandated lead arranger (alongside Deutsche Bank, ING and BayernLB) of €524m multi-source ECA-backed export finance facilities to Novolipetsk Steel (NLMK) involving four export credit agencies (being OeKB, Hermes, ODL and ONDD).
Advising Commerzbank as co-ordinating lead arranger of a €347m ECA-backed export finance facility to Vyksa Steel Works, a subsidiary of Russian steel and pipe producer OMK.
Advising X5 Retail Group on financial aspects of acquisition of Paterson, a major hypermarkets chain in Russia.
Advising the UK liquidators of Energomash, a large Russian production group, on a range of issues including Russian and cross-border insolvency.
Advising the International Finance Corporation (IFC), a member of the World Bank Group, and the European Bank for Reconstruction and Development (EBRD) on their US$176m investment in Credit Bank of Moscow.