Arlene L. Chow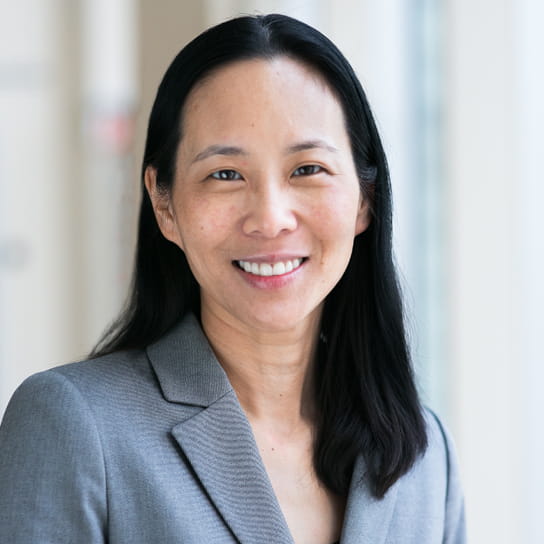 Practice Group
Intellectual Property
At the outset, Arlene frames patent litigation matters from the perspective of the judge or the jury in order to achieve the best solutions for clients. Leveraging her lead trial attorney and biochemistry experience, she dives deeply into the relevant science and underlying facts before extracting key case themes for development with the case record.
Arlene loves engaging with the in-house and external experts on the science, and then simplifying that highly technical information in a way that is easy to digest.
Arlene has applied this pragmatic approach as lead attorney in district court hearings and trials, federal circuit arguments, and inter partes review hearings, as well as when engaging in patent due diligence in support of the purchase or sale of drugs or their royalty streams.
Arlene primarily focuses on the life sciences, having worked on matters implicating small molecule and biologic drugs for the treatment of ulcers, depression, schizophrenia, pneumonia, hemophilia, pain, menopause, anaphylaxis, glaucoma, multiple sclerosis, hypertension, diabetes, COPD, overactive bladder, asthma, overactive thyroid, arthritis, irritable bowel, urinary tract infections, hepatitis, and skin, lung, and prostate cancer. Arlene has also handled matters involving a wide variety of medical devices and dosage forms, including auto-injectors, orally disintegrating and buccal tablets, transdermal patches, spinal devices, sprays, gels, inhalers, gastric bands, and nebulizers.
Representative experience
As lead counsel, obtained a permanent injunction for a leading Japanese pharmaceutical firm in a Hatch-Waxman bench trial on infringement and validity.
As lead counsel for patent owner Depomed, obtained favorable written decisions in Inter Partes Review proceedings involving controlled release gastric retentive technology.
Representing Merck as lead counsel in Inter Partes Review and Post Grant Review proceedings adverse to Pfizer relating to polysaccharide-protein conjugate vaccine formulations.
Representing BASF as lead counsel in district court litigation and Inter Partes Review proceeding adverse to Nuseed relating to transgenic plants making omega-3 fatty acids.
Representing Amgen as lead counsel in Inter Partes Review proceeding adverse to Apotex relating to method of refolding biologic proteins.
Obtained noninfringement, invalidity, and inequitable conduct determinations at bench and jury trials for Photoscribe, a laser manufacturer.
As lead counsel, representing Santen and Asahi Glass in multiple Hatch-Waxman litigations involving glaucoma drug.
Obtained noninfringement determinations at ITC bench trial for Qisda and BenQ, LCD monitor manufacturers.
Obtained summary judgment of invalidity determination for Millennium in relation to urine drug testing protocols.
2011-2012
Rising Stars, Intellectual Property Litigation
New York Super Lawyers
2013-2015
Intellectual Property Litigation
New York Super Lawyers
Latest thinking and events
Hogan Lovells Events
Tokyo: 16 November 2017 at 09:30 - 18:00 ; Osaka: 13 November 2017 9:30 - 18:00

Sponsorships and Speaking Engagements
16 May 2017

Sponsorships and Speaking Engagements
11 May 2017

Hogan Lovells Events
02 February 2017

Sponsorships and Speaking Engagements
14 September 2016