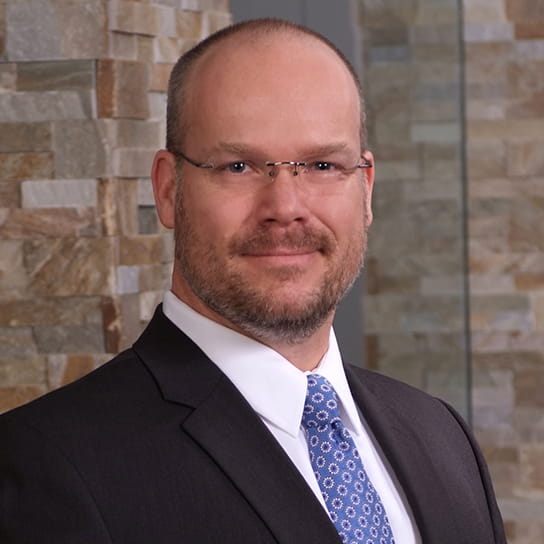 Andrew C. Lillie
PartnerDenver
Andy Lillie helps clients solve their trickiest legal problems so they can get back to their business objectives. An accomplished trial lawyer and dispute resolution practitioner, Andy ardently advocates for his clients. He also heads the firm's Denver Litigation group.
Andy is a litigator and administrative lawyer. He handles myriad disputes, with a special focus on energy and natural resources businesses and their related commercial and environmental litigation, regulation, and compliance matters. He counsels clients on dispute prevention and resolution, permitting, and issues involving toxic torts, land use, air quality, water quality, hazardous waste, and climate change.
In the natural resources world, Andy works primarily with clients operating in the electricity generation, oil and gas, gold and hard-rock mining, wind, solar, and utilities sectors.
Andy advises and defends non-natural resources clients (e.g., real estate developers, governmental agencies, retail food operations, sustainability initiatives, land conservation entities, and ski areas) on commercial problems, regulatory compliance, cybersecurity and privacy concerns, and enforcement issues.
Andy's notable experience includes defending against complex contract and tort claims and fighting citizen suits and enforcement efforts involving the Clean Air Act, the Clean Water Act, the National Environmental Policy Act, and other federal statutes.
He regularly handles local, state, and common-law controversies involving public health, local control over resources, eminent domain, public and private land use, real estate, public contracting, resources-project development, permitting, and policy formation.
Andy has served as a Special Assistant Attorney General for Colorado, a U.S. Department of Justice Environment and Natural Resources Division intern, and a law clerk for Chief Judge Lewis T. Babcock of the U.S. District Court for the District of Colorado.
"The last time we hired Hogan Lovells to do work for us, I specifically called Andy because of my very positive prior experience in working with him on other matters. . . . I chose to call Andy [because] in working on highly complex and difficult legal issues, I have always found Andy to be thoughtful in his approach, thorough in his analysis, and — most importantly — helpful in his advice."

Mike Jenkins, PacifiCorp Energy
Awards and recognitions
2013
Environmental Litigation, Rising Stars
Colorado Super Lawyers
Education and admissions
Education
J.D., University of Denver Sturm College of Law, Order of St. Ives, 2002
M.A. Science Journalism, University of Colorado, 2002
B.G.S., University of Michigan College of Literature, Science, and the Arts, 1994
B.S., University of Michigan School of Natural Resources and Environment, with distinction, 1994
Memberships
Member, American Bar Association
Member, Colorado Bar Association
Member, Downtown Denver Leadership Program
Vice Chair, American Bar Association Energy and Natural Resources Litigation Committee
Former Board of Directors, Colorado Photographic Arts Center
Former Board of Directors, Institute for Environmental Solutions
Member, World Association of Mining Lawyers
Member, Faculty of Federal Advocates CLE Committee
Bar admissions and qualifications
Colorado
Michigan
North Dakota
Court admissions
U.S. Court of Appeals, Eighth Circuit
U.S. Court of Appeals, Ninth Circuit
U.S. Court of Appeals, Tenth Circuit
U.S. District Court, District of Colorado
Representative experience
Successfully argued BLM lease-prioritization matter in federal court for Peabody Energy, freeing up over US$1bn of coal for extraction.
Represented AngloGold Ashanti in contract dispute in federal court regarding sale of Colorado mine.
Won jury trial for AngloGold Ashanti in contract dispute in which client was awarded ownership of gold mine worth approximately US$100m.
Favorably settled toxic-tort lawsuit against Antero Resources in one of the nation's first oil-and-gas hydrofracturing cases.
Favorably settled multimillion-dollar contract-bidding suit against College Assist.
Won wind-project ESA and NEPA lawsuit in California worth approximately US$500m.
Defended Xcel Energy's Comanche III power plant permit in state trial, appellate, and supreme courts.
Defended PacifiCorp's Jim Bridger power plant against alleged Clean Air Act opacity violations.
Favorably settled Colorado State Land Board contract dispute over US$100m water-provision issue.
Favorably settled RCRA citizen-suit against NV Energy's Reid Gardner power plant.
Favorably settled federal contract lawsuit over rights to use midstream oil-and-gas pipeline.
Assists ski areas with permitting issues and against enforcement actions.
Helps grow innovative, market-disrupting, forward-focused restaurant and real-estate-development businesses and helps small businesses get on their feet.
Advises on the Endangered Species Act, the Federal Land Policy and Management Act, the Resource Conservation and Recovery Act, and other federal statutes.