Anastasia Zubreeva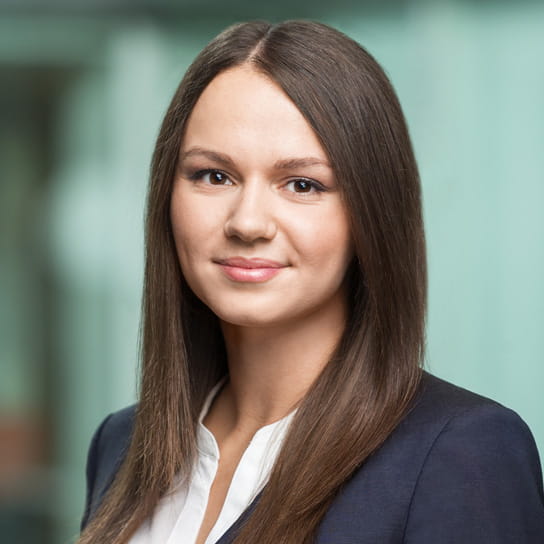 Languages
English, Russian
Anastasia Zubreeva is a Russian qualified associate in Moscow office of Hogan Lovells. She has studied law at Lomonosov Moscow State University and graduated with merit in 2013 before joining Hogan Lovells in 2012.
Her main area of focus is corporate law, with particular emphasis on both domestic and cross-border mergers and acquisitions, buy-outs and spin-offs, corporate governance and joint ventures arrangements. She has served as a transactional counsel to a number of well-known corporations and clients from all over the world, advising on a number of valuable transactions.
Anastasia takes pride in ensuring that each transaction is tailor-made and structured to best serve the client's interests and thrives in working around challenges and hurdles. Her innate problem solving skills coupled with her experience in transactional document drafting are invariably employed in all transactions she undertakes, to ensure success every time. For Anastasia success always goes beyond a successful closing: continuous post-transactional support on all legal matters and a long fruitful cooperation going forward.
Her commercial awareness combined with her strong business acumen drives her to stay abreast with all developments of Russian corporate law as well as other matters affecting her clients and their business. She strives to be able to proactively advise her clients on how to stay ahead of the fast-paced changes in the legal and regulatory framework, how such changes affect her clients business and to offer suitable solutions.
Her clients portfolio comprises of numerous large multinational corporations and HNWI hailing from all over the world, and which are active in a wide spectrum of industries including the fields of energy, mining, oil and gas, pharmaceuticals and healthcare, aviation and transportation, media, telecommunications and technologies.
Representative experience
Advising Sia International Ltd, one of Russia's pharma distributors, on the sale of 50% of shares in Sia International Ltd to a Russian businessman
Advising Deost LLC on the sale of its orthopedic business to Smith & Nephew plc, a UK FTSE 100 diversified advanced medical technology business
Advising Luxaviation Group, the world's largest global private aviation group, on acquisition of 100% shares of Execujet Aviation Group from Irish Forbes Dermot Desmond
Advising a group of Russian businessmen on the multi-million dollar sale of OJSC Payakha to Independent Petroleum Company, established by a former executive of Rosneft
Advising Pharmstandard on an acquisition of 70% stake in CJSC Biocad, together with Millhouse LLC from Gazprombank OAO
Advising A&NN Capital Fund Management, controlled by Alexander Mamut, on merger of Internet assets with Vladimir Potanin; merged company accumulates over 40m unique visit
Advising RigNet Inc., a global provider of remote communications solutions, on due diligence and Russian law aspects of acquisition of Russian assets of Inmarsat plc