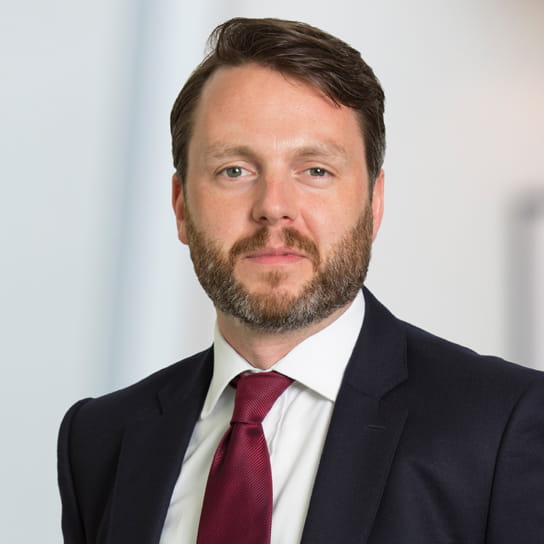 Alistair Cowling
Senior Associate, London
Applying his decade of experience at the firm to providing his clients with quality solutions, it is a clear indication as to why Alistair's clients value his drive, his commercial focus and his ability to deliver them with solutions time and time again. He has advised project sponsors, lenders, investors, promoters, secondary market purchasers and subcontractors on complex energy and infrastructure projects. He has extensive experience advising on EPC contracts, services contracts and varied types of subcontracting structures. He has worked across a wide range of sectors, which include nuclear and renewable energy, traditional power generation, provision of custodial services, health, defense and education.
He has worked extensively with both the private and public sectors in the most complex projects across a broad range of sectors, both in the UK and internationally. Alistair also has extensive experience of commercial developments and refurbishment projects in the UK. This includes experience of a broad range of industry standard forms, as well as bespoke framework arrangements and many other contracting structures. Alistair is proud to have been involved in a number of pro bono matters, which include working for several years with PEAS who promote and provide sustainable secondary education in Africa.
Representative experience
Advising a subcontractor in relation to the UK nuclear new build power plant at Hinkley Point C.
Advising the Project Co on a combined construction and services subcontract structure in relation to the Peterborough Schools PFI.
Advising the project sponsors in relation to the construction and operation of a biomass combined heat and power plant in the UK.
Advising Serco in relation to providing the UK Ministry of Defence with management services, including a virtual GOCO structure.
Advising Veolia on several EPC Contracts for PFI energy from waste facilities including the £460m Leeds City project and £800m Hertforshire project.
Advising the Brewery Square Development Company in relation to a major town centre re-development.
Advising News UK on the fit-out to their new UK headquarters, the News Building.
Advising a large UK pension fund on construction matters across their portfolio of investment properties.