Alexander Rymko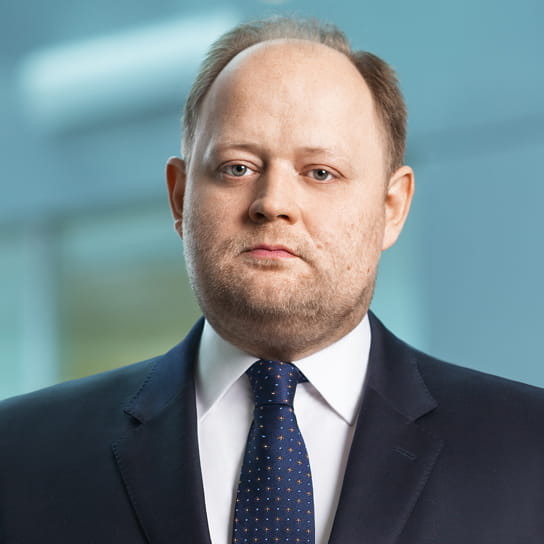 Languages
English, Russian
Having worked for a number of years in the banking industry, Alexander knows the financial services sector inside out. He clearly understands the issues faced, be it a new regime for taking security in a debt finance transaction or a regulatory grey area in day-to-day operations.
Alexander brings his vast experience to help lenders and borrowers to work through complex financing and sometimes difficult restructurings in the ever-changing market and legal environment. Alexander helps his clients to find solutions and achieve positive results when it comes to dealing with a myriad of Russian financial services and payments regulations.
Recognized as a leader in trade and export finance, Alexander has handled some of the most significant pre-export financing in Russia and is deeply involved in structured commodity finance acting both for lender syndicates and borrowers. He has extensive experience in supporting export credit agencies, banks, other financial institutions and corporate internationally across the wide range of financing and restructurings.
On the regulatory front, he helps financial institutions and payment service providers on various aspects of Russian financial services and payments regulations and has practical experience in dealing with the Russian Central Bank on regulatory and licensing matters.
Alexander is a partner heading the banking practice in the Moscow office. Before joining the firm he had experience in-house with leading international banks including for four years as Head of Legal in one of the world's largest banks.
'Hogan Lovells provides 'well-founded advice and constructive solutions in prompt fashion'. The team, headed by the 'business-savvy' Alexander Rymko, is known for its trade finance expertise, where it acts for leading financial institutions.'
'Hogan Lovells provides 'well-founded advice and constructive solutions in prompt fashion'. The team, headed by the 'business-savvy' Alexander Rymko, is known for its trade finance expertise, where it acts for leading financial institutions.'
Representative Experience
Supporting BNP Paribas and Société Générale as arrangers of a US$1.6bn pre-export syndicated loan facility to Novolipetsk Steel (NLMK), a major Russian steel company
Handling a U.S.$1.2bn pre-export syndicated loan facility arranged by Deutsche Bank for LUKOIL, a major Russian oil company
Guiding a major international e-commerce company and its online payment platform through Russian financial services regulations
Helping Société Générale as mandated lead arranger of a U.S.$1.5bn structured syndicated loan facility to Norilsk Nickel, the world's leading producer of nickel and palladium
Supporting a major international financial services company on a wide range of various day-to-day issues in Russia
Helping Natixis on an up to U.S.$800m syndicated pre-export finance facility to Uralkali, one of the world's largest potash producers and exporters
Handling a €600m term loan facility arranged by Sberbank of Russia for Agrokor, the largest privately held company in Croatia producing and distributing consumer goods
Carrying out a regulatory review for a major international prepaid card business on its prepaid card product in Russia
2013 - 2014
Banking
IFLR 1000
2009 - 2015
Banking & Finance
Chambers Global and Europe
2013 - 2015
Banking and finance
Legal 500 EMEA
Latest thinking and events
Hogan Lovells Publications
International Litigation and Arbitration Alert
Hogan Lovells Publications