Alexander McMyn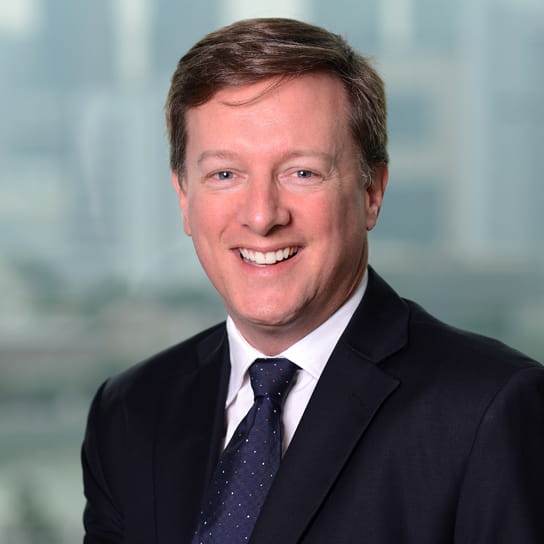 A partner in our Singapore Banking practice, Alexander advises creditors, sponsors and borrowers on a wide range of transactions across Asia-Pacific. With almost a decade's experience in Asia, Alexander has worked on deals involving a considerable number of jurisdictions across the region, with particular focus on key investment destinations such as India, Indonesia and Australia; he also has broad knowledge of less developed markets.
Alexander's breadth of APAC geographic experience is mirrored by the variety structures with which he is familiar - clients have turned to him for assistance on event driven, structured and limited recourse financings as well as investments related to commodities. In addition, Alexander has been involved in a broad range of asset finance work with an emphasis on shipping and aviation related matters.
Recognized as a leading practitioner in the APAC finance market, Alexander brings a wealth of regional knowledge to bear for the benefit of clients, which has proven of critical importance to them as markets have fluctuated and business performance and risk appetites have changed. Much of Alexander's work of late has involved assisting with the reassessment and restructuring of transactions that were completed during a period when the APAC economic landscape was different.
He is thought of as an 'excellent lawyer,' who is 'enthusiastic and a pleasure to work with.' Banking & Finance (International Firms)
Alexander McMyn has a 'cool head,' and takes a 'calm and rational approach to problems.' Another interviewee praises his ability to be 'very clear in explaining the pros and cons'. Banking & Finance
Representative experience
Advising PERTAMINA in relation to a €1,044,600,000 guarantee facility backing its public offer for shares in Etablissements Maurel et Prom - a vehicle listed in Paris.
Advising the eight arrangers and 24 other lenders of a USD1,500,000,000 revolving credit facility provided to a member of the BOC Aviation group.
Advising ANZ, The Bank of Tokyo-Mitsubishi UFJ, Citibank, HSBC, and Sumitomo Mitsui Banking Corporation as arrangers of a US$650m facility to PT Perusahaan Gas Negara.
Advising ANZ, DBS Bank, Scotiabank, Mizuho Bank, and UOB in a £250m refinancing involving a Malaysian sovereign pension fund's acquisition of office blocks in London.
Advising on a US$220m facility to a real estate investment fund to acquire business parks in India, the country's largest cross-border real estate investment ever.
Advising the arrangers of a c.US$120m financing to a global mining and metals conglomerate structured by way of a derivative-supported silver forward purchase contract.
Advising the arrangers of an IDR1.2 trillion facility for PT Matahari Department Stores Tbk.
Advising banks including Crédit Agricole, Natixis, and Investec on financing an acquisition by Baring Private Equity Asia of a stake in an Indian aggregates business.
Advising ANZ in an AU$150m financing to Malakoff Group members for the acquisition of a 50% stake in the largest wind farm in South Australia.
Advising a large multinational energy corporation on its borrowing of a US$3bn facility from China Development Bank.
Advising Pembroke Capital on an innovative financing of two Airbus A330-300 aircraft to be delivered on lease to EVA Air.
2018
Aviation: Finance (Singapore), Recognised Practitioner
Chambers Asia-Pacific
2018
Banking & Finance: International (Singapore)
Chambers Asia-Pacific
2018
Banking & Finance: International Firms (India), Recognised Practitioner
Chambers Asia-Pacific
2015
Leaders in Their Field (Banking and Finance, Singapore)
Chambers Asia
2014-2015
Leading lawyer (Banking, Singapore)
IFLR1000
2014
Energy and Infrastructure Guide, Leading lawyer
IFLR1000 Petroleum Economist
Latest thinking and events
Hogan Lovells Publications
Hogan Lovells Events
18 February 2016

Hogan Lovells Publications