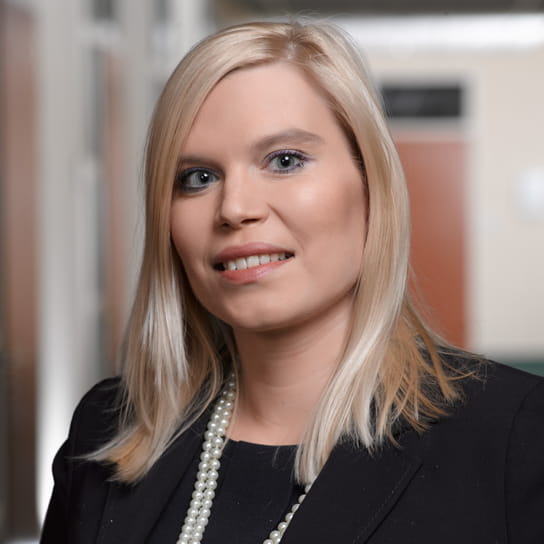 Agnieszka Chylinska
Senior AssociateWarsaw
Agnieszka Chylinska joined Hogan Lovells in September 2015 and has been an Attorney at Law in the Infrastructure Group. She has many years' experience in complex infrastructure projects including those performed on the basis of the broadly understood Public Private Partnership formula. Her experience encompasses providing legal advice for both public and private partners in following sectors: E-payments, electronic tolls, social housing, communal infrastructure and transportation.
Agnieszka deals with the preparation of legal analyses of public-private partnership models, including those related to the methods and models used in the realization of projects, ownership issues, risk factors, and the finances of undertakings (while not burdening the public sector balance sheet). She also prepares the relevant tender documentations with potential partners depending on the chosen model, as well as preparing and negotiating public-private partnership contracts. Agnieszka also specialises in contracts based on the FIDIC standards. Last but not least, she deals with all Real Estate Law issues during the projects.
Education and admissions
Education
M.A. Law, Nicolaus Copernicus University in Torun M.A., 2007
Diploma in An Introduction to English Law and the Law of the European Union, University of Cambridge, 2005
Memberships
Member, The Circuit Chamber of Legal Counsel in Warsaw, 2011
Bar admissions and qualifications
The Circuit Chamber of Legal Counsel
Representative experience
Currently, Agnieszka advises Polish Ministry of Justice in concession proceedings for services involving the handling of payments in the system of e-payments.
She also assists the Centre for EU Transport Projects (CEUPT) in their ongoing projects.
Within electronic tolls projects, she assisted the General Directorate of National Roads and Motorways, the (GDDKiA), and the Ministry of Infrastructure and Development in projects relating to the implementation, in Poland, of: the European Electronic Toll Collection System (EETS), and the Regional Toll Collection System (REETS).
Within the road transportation sector, Agnieszka advised the GDDKiA in the implementation and maintenance of the National Toll Collection System in Poland (viaToll).
Agnieszka also provided legal services to the City of Lódz in numerous issues related to the implementation of the New Lódz Centre Programme.
Assisting Poland's General Directorate of National Roads and Motorways and Ministry of Infrastructure and Development in implementing the European Electronic and Regional toll collection systems.
Advising Honeywell on employment issues, including collective bargaining agreements, negotiations with trade unions, employee data protection, non-competition agreements, and remuneration structure of management.
As part of her work in the communal infrastructure sector, she provided advice to the Capital City of Warsaw for social housing projects.
Providing legal services to the city of Lódz regarding implementation of the New Lódz Centre Programme.
Agnieszka advises Mitsubishi Hitachi Power Systems Europe Ltd in numerous tender proceedings in Poland for Long Term Service Agreements of Generator Sets.