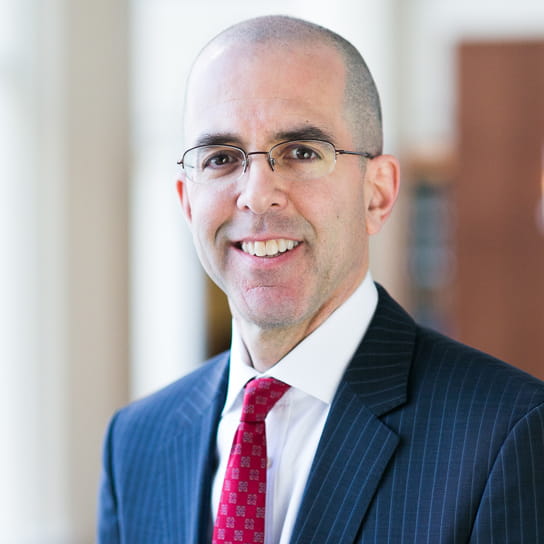 Head of the Corporate practice group in New York, Adam Golden advises life sciences companies on their most important transactions. Clients turn to Adam for his dual skillset, which combines his strengths as an M&A and corporate lawyer, with those of an IP transactions lawyer. This enables him to represent pharmaceutical, biotech, and medical device companies in the full scope of transactions that are common to this sector.
Over his career, Adam has advised clients on M&A, capital markets transactions, license and collaboration deals, venture capital financings, and commercial transactions. Frequently, clients seek his advice on hybrid transactions such as M&A transactions with back-end milestone payments or contingent value rights, options to acquire companies or technology, and product divestitures. He also advises clients on the transition service, manufacturing and supply, and other operational agreements that often accompany these transactions.
Adam is recognized as a leading practitioner in Chambers Global, Chambers USA, Legal 500 US, Who's Who Legal, LMG Life Sciences, and IAM Patent 1000. In 2018, he was named M&A Attorney of the Year by LMG Life Sciences.
Awards and recognitions
2015-2018
Life Sciences: Corporate/commercial (Global-wide)
Chambers Global
2009-2019
Life Sciences: Corporate/Commercial (Nationwide)
Chambers USA
2014-2019
Healthcare: Life Sciences, Leading Lawyer
Legal 500 US
2017-2019
M&A/Corporate and Commercial: M&A: Large Deals ($1bn+)
Legal 500 US
2012-2018
Life Sciences Star - Finance & Transactional
LMG Life Sciences
2018
Life Sciences - Transactional
Who's Who Legal
2012-2018
The World's Leading Patent Practitioners
IAM Patent 1000
Education and admissions
Education
J.D., New York University School of Law, 1990
A.B., Princeton University, 1986
Bar admissions and qualifications
New York
Massachusetts
Representative experience
Novartis, on its US$8.7bn acquisition of AveXis Inc., a U.S. clinical-stage gene therapy biotech company focused on developing treatments for spinal muscular atrophy.
Shire in ex-U.S. aspects of its US$2.4B oncology business sale to Servier S.A.S.
Celgene Corporation, on its US$9bn acquisition of Juno Therapeutics, a clinical-stage cell immunotherapy company.
Kite, a Gilead company, in an up to US$3bn deal to access Sangamo Therapeutics' zinc finger nuclease technology.
Celgene Corporation, on its acquisition of Impact Biomedicines, Inc. for up to US$7bn.
Chase Pharmaceuticals on its sale to Allergan for up to US$1bn.
Novartis in its US$665m acquisition of Selexys Pharmaceuticals, a developer of therapeutics to treat pain associated with certain blood and inflammatory disorders like sickle cell disease.
Allergan on its US$40.5bn generics divestiture to Teva Pharmaceuticals.
Novartis in its acquisition of Encore Vision, focused on the development of a novel treatment in presbyopia.
Alcon in the acquisition of Transcend Medical, Inc., developer of technologies for the treatment of glaucoma.
Pfizer on its immuno-oncology research collaboration and option to acquire Western Oncolytics to investigate novel oncolytic virus technology.
Nektar Therapeutics on an exclusive license agreement with Daiichi Sankyo Europe for the commercialization of ONZEALD™ within the European Economic Area, Switzerland, and Turkey.
Allergan on an exclusive license agreement with Cardiome Pharma Corp. for the commercialization of XYDALBA™ in the U.K., EU, Middle East, and Canada.
Novartis in an immune-oncology collaboration with Surface Oncology.
Sanofi in its US$2.2bn global collaboration with Regeneron Pharmaceuticals to develop novel antibody-based immuno-oncology treatments.
Novartis in the acquisition of rights from GSK to Arzerra® (ofatumumab) for auto-immune indications for more than $1bn.
Novartis in connection with its landmark portfolio transformation transactions with GSK and Eli Lilly worth more than $23bn.