Cécile Derycke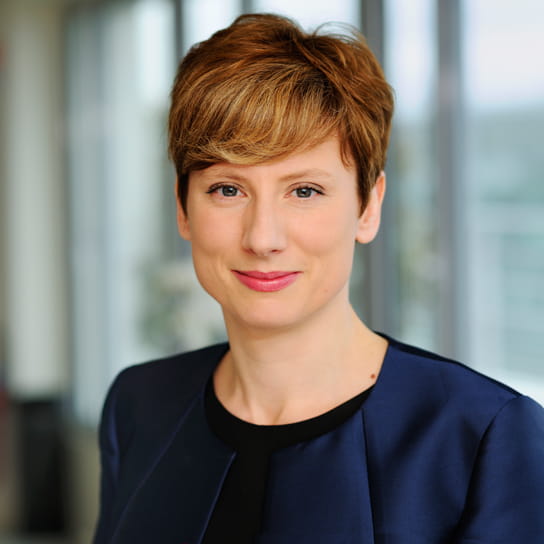 Languages
English, French
Practice Group
Litigation
Passionate about litigation and human beings, Cécile Derycke has grown a practice focused on disputes in the life sciences area. Cécile coordinates our Paris life sciences practice and is the Co-Head of our global Life Sciences Litigation Arbitration & Employment Team. She handles product liability cases, commercial litigation matters and various contentious situations regarding regulatory requirements. Cécile joined Hogan Lovells more than fourteen years ago as a general litigator and product liability lawyer. Hand in hand with our regulatory team, she has built the Life Sciences practice of our Paris office. Cécile handles many different types of contentious issues for companies in the life sciences sector.
She has particular experience in multi-jurisdiction bodily injury cases and the cross-border coordination of such cases. She is handling the largest product liability case ever brought before the French civil courts in terms of number of plaintiffs. Cécile works every day on complex legal, procedural and media issues raised by such matters. She has also developed a very sharp understanding of the class actions mechanisms which are spreading over Europe, including France.
Cécile's close connections with our regulatory team and her deep knowledge of the life sciences industry have also made her a key player in litigious matters involving regulatory issues. She very often advises our clients on their interactions with the health authorities regarding pricing and reimbursement, product safety, etc. She also works on complicated promotional subjects either raised by the authorities or by competitors.
'Clients praise her "strategic thinking" and "commanding presence in court''
'Clients praise her "strategic thinking" and "commanding presence in court''
Representative experience
Global defense of global certification company against liability claims resulting from allegedly inappropriate certification of breast implant manufacturer P.I.P.
We represent a pharmaceutical company in litigation against the French Economic Committee for Health Products ('CEPS') regarding the price conditions of an orphan drug.
On behalf of an international pharmaceutical company, we co-ordinate at pan-European level the defence of all the product liability claims concerning a blockbuster vaccine and we defend the French cases relating to this vaccine.
We advise a medical devices manufacturer on an inspection regarding materiovigilance carried out by the French health authorities and the follow up actions.
We advise a biotech company on the communications with the French health authorities regarding the potential ban of promotion due to an alleged re-assessment of a benefit/risk balance.
We assist a pharmaceutical company in investigating a product safety issue and assessing claims against an excipient supplier and of clients.
We assist a medical device manufacturer in the context of administrative investigations, criminal and civil proceedings relating to the over-irradation of patients.
We represent orthopaedic medical devices manufacturers in unfair competition matters relating to the alleged poaching of sales representatives, in particular.
We assist an American biopharmaceutical company in relation to claims arising from clinical trials.
2015
Band 1 (Paris Life Sciences Group) – Legal 500 EMEA
2015
Acclaimed internationally for her work defending product liability claims – Who's Who Legal
2014
Shortlisted for 'Best in Life Sciences'
Euromoney European Women in Business Law Awards
2014
Notable expertise in healthcare-related cases
Legal 500 EMEA
2013
Recommended for sensitive cases relating to pharmaceuticals and medical devices
Legal 500 EMEA
Latest thinking and events