Sarah Turner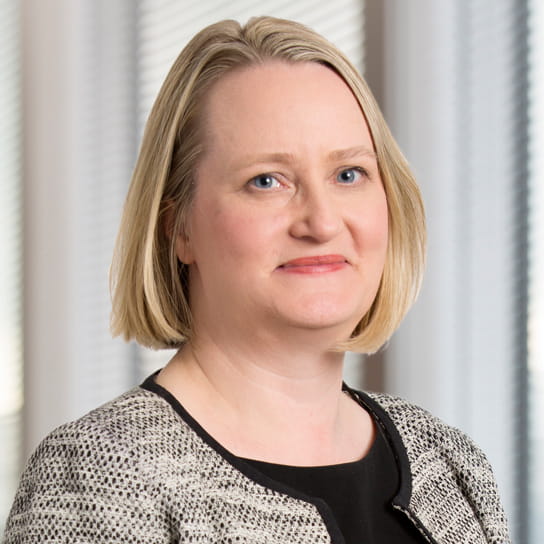 Practice Group
Intellectual Property
For nearly 20 years, Sarah has been practising IP law in the London office. As a partner her focus is on the protection of confidential information and patent law but she has experience of most areas of intellectual property law.
Her clients range from large pharmaceutical and medical device companies to manufacturing businesses as well as start-ups. Sarah is experienced in litigation and negotiating commercial intellectual property agreements. Her practice is diverse: from recovering confidential information using search orders to carrying out intellectual property audits. The common thread of her work is anything technical. Before studying law, Sarah took a degree in physics. This technical background helps her to get to grips quickly with the underlying technology in patent cases and the complexities of software licensing, amongst other things.
She is well known as a trade secrets litigator and advisor and her work in this area has been used by the European Commission in its production of the draft Trade Secrets Directive. The majority of her work is cross border and she regularly works with colleagues in the US, Europe and Asia on patent and trade secret matters. Sarah has been recommended as a Rising Star in IP. She is on the committee of the IPLA which represents over 60 firms of IP solicitors across the UK.
'A fantastic team - very organised and they have excellent technical understanding'
'A fantastic team - very organised and they have excellent technical understanding'
Representative experience
Recovery of confidential source code and associated breach of confidence and copyright infringement action for a financial services company.
Recovery of confidential engineering drawings from a pirate parts manufacturer.
Licensing dispute for a large pharmaceutical company over manufacture of a blockbuster drug.
Cross-border patent action for a high tech manufacturer.
Securing access via contract to a confidential recipe underlying a food manufacturer's business.
Managing EPO proceedings at all levels from Opposition Division to the Enlarged Board of Appeal.
Negotiating a chain of licences for the construction and operation of a novel satellite system
Negotiating R&D agreements and resolving IP disputes for an international brewing company.
Euromoney Women in Business Law, Winner, Rising star in IP
Euromoney
Latest thinking and events
Hogan Lovells Publications
Intellectual Property Alert
Hogan Lovells Events
24 February 2014

Hogan Lovells Publications
Intellectual Property Alert
Hogan Lovells Publications
Intellectual Property Alert
Hogan Lovells Publications
Intellectual Property Alert
Hogan Lovells Publications
Intellectual Property Alert