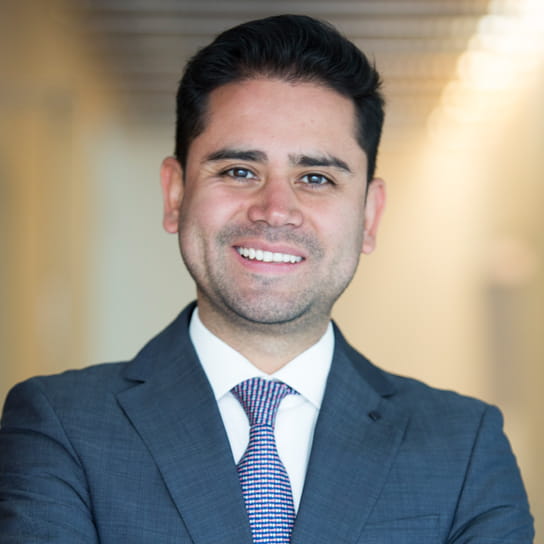 Since Rodrigo Méndez Solís was a student, he has been very attracted to new technologies, with a deep interest in change and innovation. His passion for technology encouraged him to focus his academic and professional practice in telecommunications, data protection, and new technologies—topics unfamiliar to many lawyers.
His interest led him to pursue an LL.M. in business, telecommunications, and audiovisual rights at one of the most prestigious universities in Madrid. He was ranked as one of the top students of his class after writing his master's thesis titled "Legal Implications of Cloud Computing."
To complement his specialization, Rodrigo obtained a postgraduate diploma in copyright and its regulation in the digital world. Rodrigo's specialized degree makes him an IT lawyer who clearly understands his clients' requirements regarding the technical aspects of technological systems, allowing him to provide certain legal solutions to complex projects.
His enthusiasm for all things digital, including telecommunications, cloud computing, ISPs, the Internet of Things, drones, net neutrality, BitCoin, privacy, and data protection, have made Rodrigo an accomplished telecommunications and privacy lawyer in Mexico. Rodrigo's experience and dedication has been recognized by his clients, which include governmental authorities, telecommunications carriers and resellers, broadcasting and technology companies, oilfield communication companies, wholesale telecommunications service providers, ISPs, media and entertainment companies, OTT service providers, social networks, pharmaceuticals, financial entities, call centers, fashion stores, and commercial industries.
Awards and recognitions
2018
Telecommunications, Media, and Technology
The Legal 500 Latin America
2018
TMT (Telecoms, Media, Technology), Associates to watch
Chambers Latin America
Education and admissions
Education
M.A., Instituto de Estudios Bursátiles, Business and Telecommunications Law, Internet and Audiovisual, 2008
M.A., Instituto de Estudios Bursátiles, Negocio y Derecho de las Telecomunicaciones, Internet y Audiovisual, 2008
Postgraduate Course, Universidad Complutense de Madrid, Copyright, 2008
Postgraduate Course, Universidad Complutense de Madrid, Derechos de Autor, 2008
Law Degree, Universidad Panamericana, 2007
Representative experience
Advising the Ministry of Communications and Transportation in the analysis of various matters, including the reorganization of the 2.5 GHz band.
Advising different technology companies such as Microsoft, Facebook, and WeChat on the impact of regulatory and data protection matters in Mexico.
Representing Univisión México in regulatory issues with respect to terrain transmission stations.
Advising Disney Mexico in different telecommunications matters; assisting the homologation of game consoles for Disney Infinity.
Legal advisory to diverse companies such as Netflix, Sherwin Williams, Sungard, Shire in compliance and data protection obligations in Mexico.
Assisting GE Healthcare on its general counsel and compliance areas (secondee).
Assisting diverse companies in privacy proceedings before the DPA in Mexico.
Advising fashion companies Cartier, Coach, and Gucci in privacy and data protection compliance issues.
Latest thinking and events