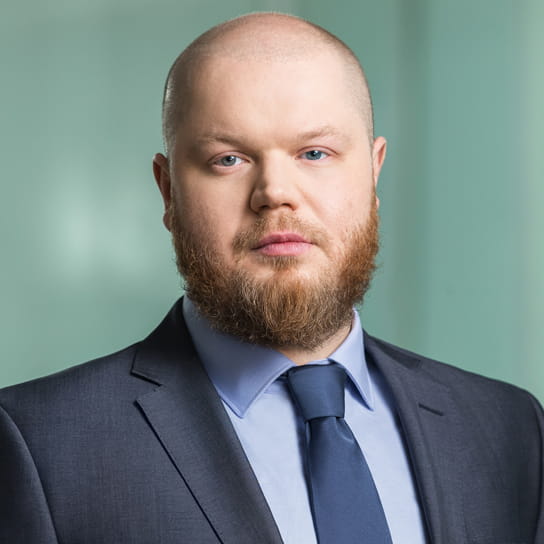 Oleg Gritsenko
Senior Associate, Moscow
'is noted by market sources and assists with the majority of the firm's key deals',

Chambers Global 2015
A senior associate in our banking and finance practice, Oleg Gritsenko is a deal-maker. He will be extremely helpful when it comes to day-to-day transactional advice and client support.
With a particular focus on structured trade and export finance and syndicated lending, Oleg supports major financial institutions lending to large-scale businesses across Russia and CIS, operating in a variety of industries ranging from metals and mining, oil and gas, telecommunications and leasing operations to retail products and services. He can be of great help to the corporate borrowers seeking to preserve their interests in cross-border financings.
Oleg also provides general banking regulatory advice, assists creditors with business restructurings and insolvency matters, and advises on capital markets products generally. He is truly international by his reach, thanks to Oleg's work with the European clients from our London office. Chambers Global ranks him as 'Up and Coming', saying Oleg 'is noted by market sources and assists with the majority of the firm's key deals'. Sources also highlight that Oleg has a client-focused work ethic, saying he has 'great commitment - he looked into issues deeply, working until 4 am'.
Awards and recognitions
2015
Gritsenko_O - Chambers Russia Banking Finance 2015
Chambers Russia
Education and admissions
Education
Moscow State University of International Relations, 2004
Representative experience
Advising Deutsche Bank as mandated lead arranger of a US$1.2bn pre-export syndicated loan facility to LUKOIL.
Advising Société Générale and BNP Paribas as co-ordinating mandated lead arrangers of a US$1.6bn pre-export syndicated loan facility to Novolipetsk Steel (NLMK).
Advising Société Générale, ING and a major financial institution in relation to a US$450m revolving facility to Norilsk Nickel.
Advising Natixis as a mandated lead arranger of a US$250m secured syndicated facility to Russian Copper Company.
Advising Société Générale as documentation agent/mandated lead arranger (alongside Deutsche Bank, ING, and BayernLB) of €524m multisource ECA-backed export finance facilities to Novolipetsk Steel (NLMK).
Latest thinking and events