Aleksandra (Aleks) King
Senior Associate
New York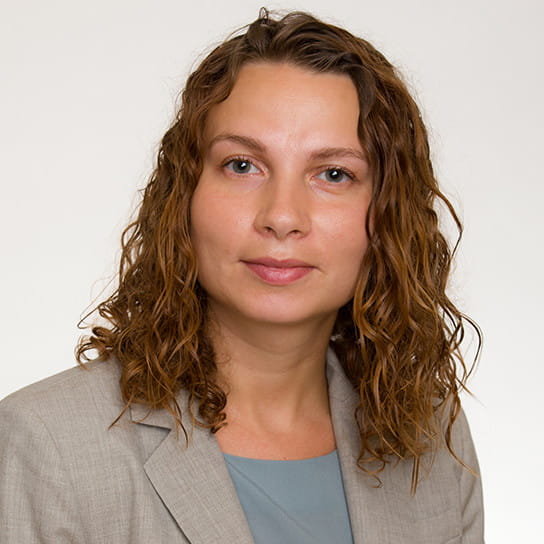 Practice Group
Intellectual Property
Using her technical background and extensive patent litigation experience, Aleks (Fayer) King helps her clients achieve the best possible results in patent proceedings. With a scientific background that includes physics, software engineering, and computer science, Aleks has a deep understanding of the challenges faced by clients in the technology sector, particularly those in software engineering, and telecommunications industries.
Aleks provides clients with defensive strategies to minimize litigation costs and advises on all aspects of patent litigation, including claim construction proceedings, through trial and on appeal. Her focus on patent litigation includes experience helping clients across a range of industries, including telecommunications, wireless technology, FinTech, and automotive.
Aleks rounds out her practice by advising clients on patent portfolio assessment, particularly in anticipation of patent litigation as well as licensing considerations. In addition, Aleks provides opinions on infringement and validity issues.
Before joining Hogan Lovells, Aleks worked at an intellectual property firm where she concentrated on patent litigation in the pharmaceutical arts. She has represented a number of pharmaceutical companies in patent litigation brought under the Hatch-Waxman Amendments to the Federal Food, Drug, and Cosmetic Act.
Representative experience
Defended iGuzzini in a multinational patent infringement row involving LED technology.
Representing Segway, DEKA and Ninebot in patent and trademark Section 337 investigation before the ITC.
Defending Mercedes-Benz USA in a patent litigation involving Traffic Services and navigation systems.
Defending Sprint in a four-patent case brought by High Point SARL involving infrastructure equipment for CDMA cellular telephone system.
Representing leading global technology company in a multi-suit case against Ericsson involving various computing and telecommunication technologies.
Defended Motorola Solutions and others in a ten-patent case brought by Round Rock Research involving RFID technologies.
Defended a multinational, brand name technology company in district court case involving e-commerce transactions.
Defended a multinational, brand name telecommunications company in district court case involving communication protocols.
Latest thinking and events
Hogan Lovells Publications
Intellectual Property Newsletter - April 2012
IP Alert
Hogan Lovells Publications
Intellectual Property Alert
Hogan Lovells Publications
Intellectual Property Alert